·
Tested in the Wilderness
Discussion Starter
·
#1
·
There are many threads about root cellars, fallout shelters, underground shelters etc. even Bunkers.
This thread can discuss them all if people wish to contribute any of their ideas and links.
A defensible bunker and an NBC shelter are different. A shelter must be a buttoned-up, closed-in place that will protect the inhabitants from a hostile environment.
A bunker is designed primarily to defend strategic locations from hostile intruders. Obviously one cannot defend his bunker if he has his head pulled down so far he doesn't know what is going on outside.
The best shelters can include both which is what I have done and will show later exactly how I built it for about $2,000. People can also use their shelter/bunker as a storage area and root cellar. It would probably be best just to call it a root cellar or storm shelter instead of a bunker for most people.
First I will show some examples of bunkers which as you can see most of these can be used as storage areas unless needed for something more if/when the SHTF.
Here is an underground bunker door and as you can see is made mostly of concrete >
Here is an above ground bunker for those who do not wish to go underground >
Here is one of Admiral Nimitz outside a bunker on Midway during WWII >
The next two pics show some about the bunker that the Ft. Fisher hermit lived in for years >
Inside of an 1800's root cellar >
Outside of a root cellar in a hillside >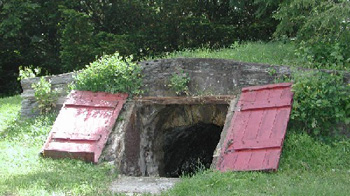 The last example shows the inside of an underground bunker, mainly the work room and notice the ventilation >
And now I would like to explain exactly how I built my underground shelter/cabin which can be used as a storage area and even bunker if necessary.
First I bought remote land in southern Wyoming with a good sunny hill - mountain side for $8,000 in 1987.
Then I used the small pole shelter plans from this book:
http://www.oism.org/nwss/s73p933.htm
Digging the hole >
Roof of the bunker showing layers. This roof is made of 3 layers of logs, cardboard on top, layer of sawdust, sheets of plastic, layer of newspapers to protect the plastic then layer of dirt, then heavy tarp, more newspapers, much more dirt and rocks, soil on top and I have 4 kinds of grasses, raspberry bushes etc. growing on top >
Showing finished roof with grass on top with a dead tree also for more camo, stovepipe, plywood covered window etc. >
Close-up of concrete roof and stovepipe >
Back trap door showing 3 foot thick rock and concrete roof. Took 250 eighty pound bags of concrete mix to make the concrete roof. >
Showing the 3 layer log roof >
The ceiling of the main room of the bunker with ladder and bunk bed on the right >
Inside the main room of the bunker showing the bunk bed painted white. Not finished in this pic >
Wall of tools inside the bunker below the 3 layer log roof >
Plywood forms to make the cement wall inside the bunker behind the wood stove >
Finished concrete wall with green backpack on right >
Wall and black 3 inch thick steel door inside bunker in the same room as the woodstove >
Looking down into the bunker in 1997 before the front was completed >
MM Mike standing in the door of the bunker in 1997 >
Any other links, pics etc. are welcome and ANY questions, comments, even criticisms are also welcome.
Many more pics in the following posts If any want to see All of the pics >