I was in my truck, listening to the radio somewhat absentmindedly when a song I had never heard before came on.
As I started paying attention, the hairs on the back of my neck stood up and I realized with surprise that I had tears rolling down my face.
Maybe it was because just a few hours earlier I had seen some photos that moved me deeply and this song seemed to have been written with those pictures in mind.
Click on
this link
to hear the song. It should start on its own if you have Window Media Player.
************************************************************
The pictures that I was referring to are these: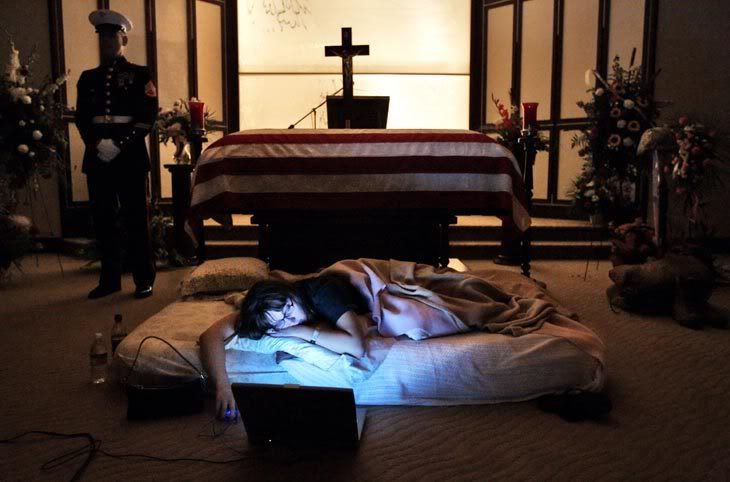 Wife of a US Marine who was killed in the War in Iraq, She asked if she could sleep next to him for one last time, and the Marines made as good a bed for her as they could, she played music on the laptop which reminded her of her husband until she fell asleep.
As she was falling asleep, the Marine Standing guard asked her if she would like him (the guarding marine) to stay there. Her reply was " I think that's what he (her husband) would have wanted."
For me, the tragedy of it all is that all these young boys and girls are sent to slaughter for the political gain and plays of a bunch of corrupt politicians(and that's 99% of them, from left, center and right) and their masters, and are told to put their young lives on the line in the name of freedom.
Because of the purity of their young hearts, most of them believe it.
So many of them have died (and not just in this last war) believing they are dying for freedom...
How many of you feel like true free men and women? How much longer are we going to accept these chains and this golden cage? When are we going to stand up and roar with righteous anger "No more!"...?