This is my first attempt at a review but I will try to do some more in the not to distant future. They will mostly be high end flashlights but I will try do do some on various pocket knives, machette's, and other survival gear I own.
Ok well up for review today is the
Surefire LX2
. This is a fairly new light from Surefire and mine is from the 2nd batch. I have been carrying mine for about 4 months now every day and these are my observations.
First it is a good looking light and sort of a new design from Surefire. It has a smoothed out
appearance
. Many were worried about the lack of knurling and how that would affect your grip on the light. I havent noticed any lack of grip including in wet or dirty environments. The head is redesigned and looks different than all of their other LED heads to date. Now the clip is made like the E1B clip which means you can use it as a headlamp and clip it to your hat. That also means you can carry it bezel up or bezel down in your pocket. This light also has a breakaway lanyard attachment point and comes with a verry nice lanyard further adding to the carry options. The body is about the size of their other E-series bodies but only the head is E-series compatible. Unlike the E-series this light can be loaded from the front or the back.
Next I will touch on the
U.I.
(User Interface, or how the light is operated),
performance
, and
durability
. The U.I. of this light is very simple and easy to operate. You push lightly and you access the momentary low mode of 15 lumens, you push harder and it lights up the momentary high of 200+ lumens. Now if you tighten the tailcap first it will come on in low and when you tighten it further it changes to high. Having this U.I. means that you can access high or low mode at the push of a button. The reason I like this is because you dont have to go through high in order to get to low and that means you wont blind yourself and kill your night vision trying to light something close up that doesnt require full brightness! The optic over the LED is a TIR (Total Internal Refraction I think) and not a reflector. Because of this the beam is a very good mixture of throw and spill with no ugly artifacts in the beam. The hotspot is awesome for spotting things in the distance and the spill is still very useable. To get the best light possible I would suggest buying an
F04 Beam diffuser
to use for close up lighting or working in confined spaces where a good flood is more useful than the hotspot. Battery life also benefits from the U.I because you will tend to use the high less often once you realize how great the low is. The light uses CR123A batteries and IS NOT compatible with RCR's. Runtime is stated to be 47 hours at 15 lumens and 2 hours at 200 lumens. I am STILL on my first set of batteries!
Like I said I have been carrying this light for a few months now and so far it is just as durable/reliable as any other Surefire Ive ever owned. Surefire uses a HAIII annodizing (Hardest coating anybody uses) and I have dropped my light quite a few times. It does have a couple nicks in the anno but mostly just around the edge of the head. I shower with this light all the time and have let it sit in a 5 gallon bucket full of water a few times. It has not leaked. I would suggest some
Nyogel
in order to properly maintain all of your lights threads, especially the twisties!
My overall opinion of this light is that it would be a great choice for an EDC or Survival light. It is extremely versatile and can be adapted to many different situations through the use of the up/down clip and an F04 Beam Diffuser. This light is also always going to be there for you and will gladly perform in whatever elements you throw at it as long as you keep the threads well maintained! For those reasons this light gets a 10/10. I have yet to find anything that I dont like about it.
The LX2's MSRP is $195 but can be found for conciderably less if you know where to look!
Here is a quick picture comparing it to some other lights.
Surefire LX2 with F04 Beam Diffuser and Surefire E2DL
Surefire 6P, Surefire LX2, XTAR Howitzer D30 1680 lumens, Electrolumens EDC P7, Springfield Armory XD45acp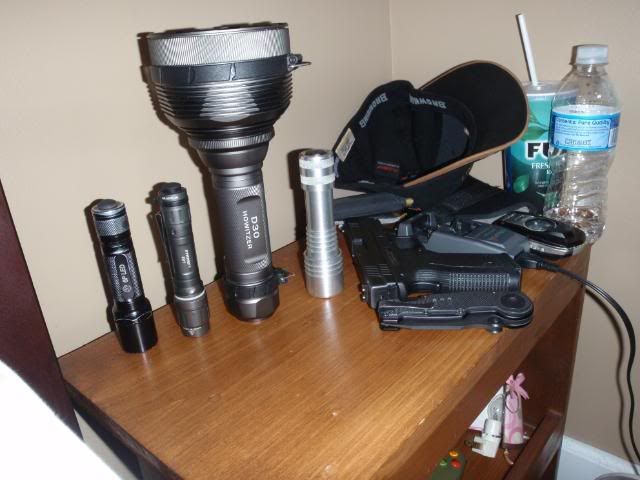 If I left anything out or didnt touch on something your interested in just let me know and I will do my best to fix it!