Discussion Starter
·
#1
·
The squash is one of the better choices for any garden.
The harvested squash can be eaten raw, it is high in nutrients, can be cooked, and some types of squash can be stored for several months. The squash is in the melon family and can develop a hard outer skin. The squash should be harvested when it is in an immature stage. If the squash is left on the plant too long, the skin and the seeds will harden, making the plant undesirable to eat. Squash plants can grow to be about 3 feet tall and 3 - 4 feet across.
The squash is not a real high production plant, but it does produce more then once. In this picture we can see several small "squash" starting to grow on the vine. The squash plant produces a vine, but not a long one. This "vine" may grow to be just a few feet long. The center vine of the squash plant in the picture may be about 18 inches long.
Freshly picked squash. Crook neck squash on the left and straight neck squash on the right. The smooth skin of the straight neck is often the more desirable to eat then the rough skin of the crook neck. But there is no difference between the two besides appearance.
The squash just needs to be washed, cleaned and it is ready to eat.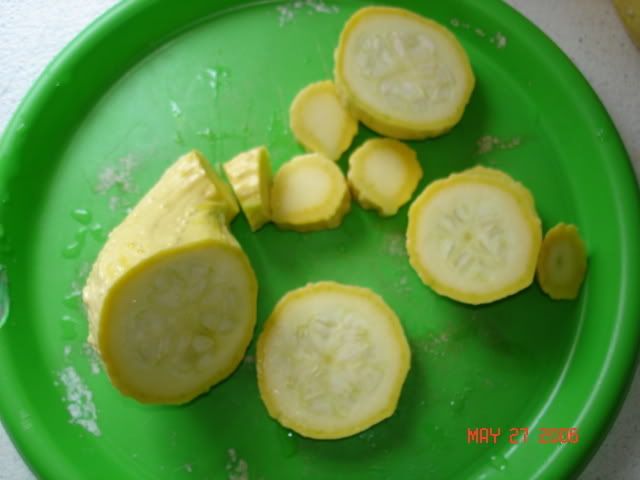 If left on the vine for too long, the seeds will harden, making the squash difficult to eat.
The benefit to having a lot of seeds - this provides more seeds to harvest. To harvest the seeds, leave the squash on the plant as long as possible.