Well, first, the fasted folder I've ever been able to deploy and put into action (training), has been Emerson folders with the "wave" feature (Cold Steel, Spyderco, and CRKT have versions as well). There's no comparison, even with automatic pocket knives.
Size does matter, but I think many over-estimate how much blade they really need. I have read that 2.5" to 3" can be enough to reach vital organs if thrust with force. I would think 3.5-4" would be a more reliable size difference, but much depends on employment and actual use.
My reasoning is now a little more different. I have reduced my pocket folder carrying days to carrying a Leatherman FREE P4 more often. I simply want a pocket tool that offers more versatility than a single blade pocket folder and not have to carry a multitool on my belt. However, it's not a defensive tool; hence the need to carrying a smaller fixed blade.
My current pocket carry choice resurrected carrying a smaller fixed blade (sometimes for utility, sometimes more for a dedicated defensive blade. If I can carry a knife, I can carry a gun, so my choices are for weak-hand carry and draw. I've added a couple other options, but I've found the ring-handled (or fingered?) knives best suited to a fast employment for my weak-hand. Coming up in an icepick grip to either slash or stab, gives me options. Again, these are meant for employment when my strong-arm/gun-arm may be pinned, occupied/grabbed, or injured and my defensive knife is mostly meant to just employ to create space for drawing my pistol.
Size matters as well. I know some who have comfortable carried a 7+inch fixed blade, but that's not for me. How you carry matters and the sheath/carry system is as important as the knife. Secure retention, ease and speed of access, and safety if you take a tumble are important factors.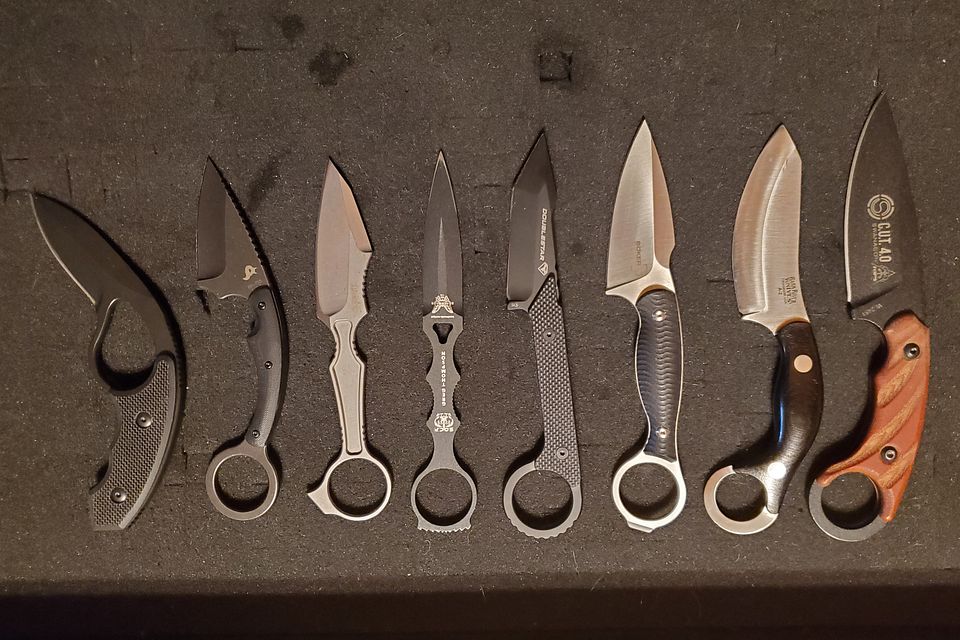 Thinking about it sometimes. What's a little knife going to do? Slash slashes?
Yes, slashing may not be incapacitating, but for me, the blade is a weak-hand back-up weapon and something that can help me create distance to draw my handgun. Most of my training was done in a combat environment where close quarters (advising) was a common occurrence (vehicles, narrow hallways and stairwells, bathrooms, and offices). I found the Colonel "punching" knife was the best suited to my needs. I needed something I could draw when seated with as little as 6-8" of space to employ; punching was better suited than slashing for that situation.
I have some smaller "utility/defensive" blades I carry as well, like the Spyderco Street-Beat, TOPS Scalpel 2, or the Bradford Guardian. I can go a little bigger during the winter, but these are good utility/defensive blades when paired with a multitool and handgun for primary self-defense.
ROCK6