Discussion Starter
·
#1
·
When it comes to accuracy and hunting rifles Bergara has carved out a name for themselves like none other. With intelligently-designed camouflage patterns, superb out-of-the-box accuracy, and modern feature sets, they have the rifles that all hunters desire. Now, they are taking those rifles and making them more manageable to pack into the back country by cutting down on the weight. At SHOT Show 2023, we were introduced to the
Bergara B-14 Squared Crest
with carbon fiber attributes.
Bergara Coverage on AllOutdoor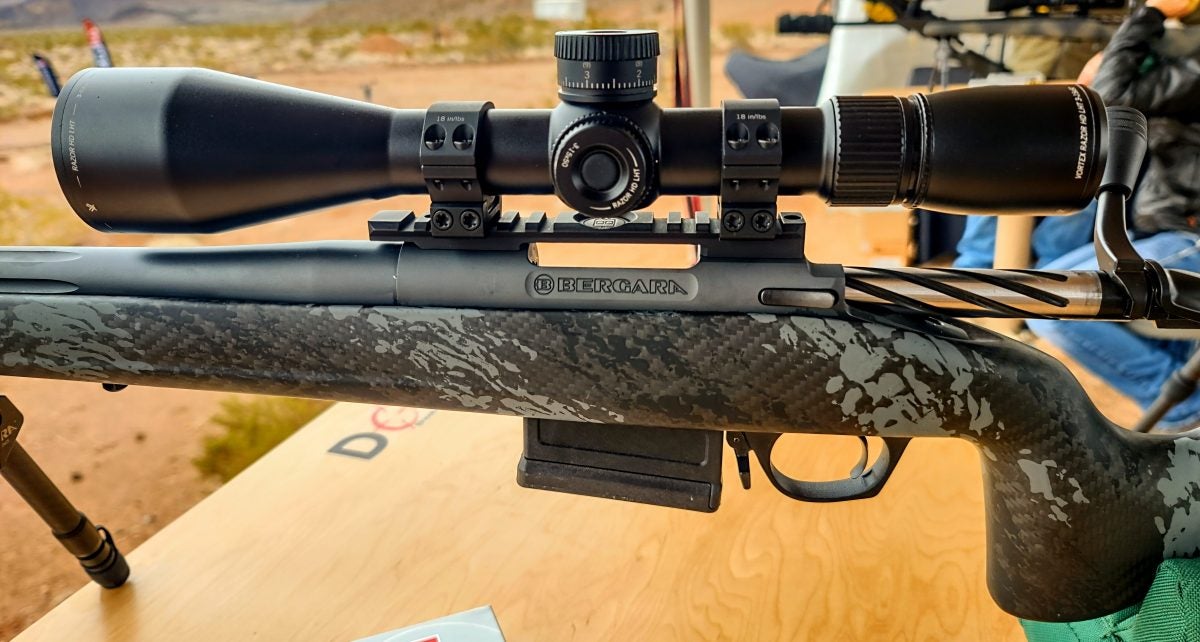 The Bergara B-14 Squared Crest boasts a 4140 CrMo Steel barrel coated in a Sniper Grey Cerakote® finish. This is then placed into a 100% Carbon Fiber with Carbon Spine stock. This not only affords it superb stability and reliability, but also cuts down on the weight tremendously. The cartridges that it is immediately going to be offered in are .308 Winchester, 6.5 Creedmoor, 6.5 PRC (Precision Rifle Cartridge), and .300 Winchester Magnum.
The new B-14 Squared concept is anchored by a Monocoque stock. Created 100% in carbon fiber, this stock has an internal spine that provides greater rigidity and strength, making it nearly indestructible.

Featuring this new stock, our B-14 action and our well-known barrels, we've blended all the advantages of the B-14 model series into something unique, which we have called B-14 Squared.

Designed for the highest standard of mountain hunting adventures, the B-14 Squared Crest is an ultralight high-performance rifle inspired to meet the needs of the most demanding backcountry hunters. This 100% carbon fiber stock is designed with industry leading technologies to withstand anything you throw at it.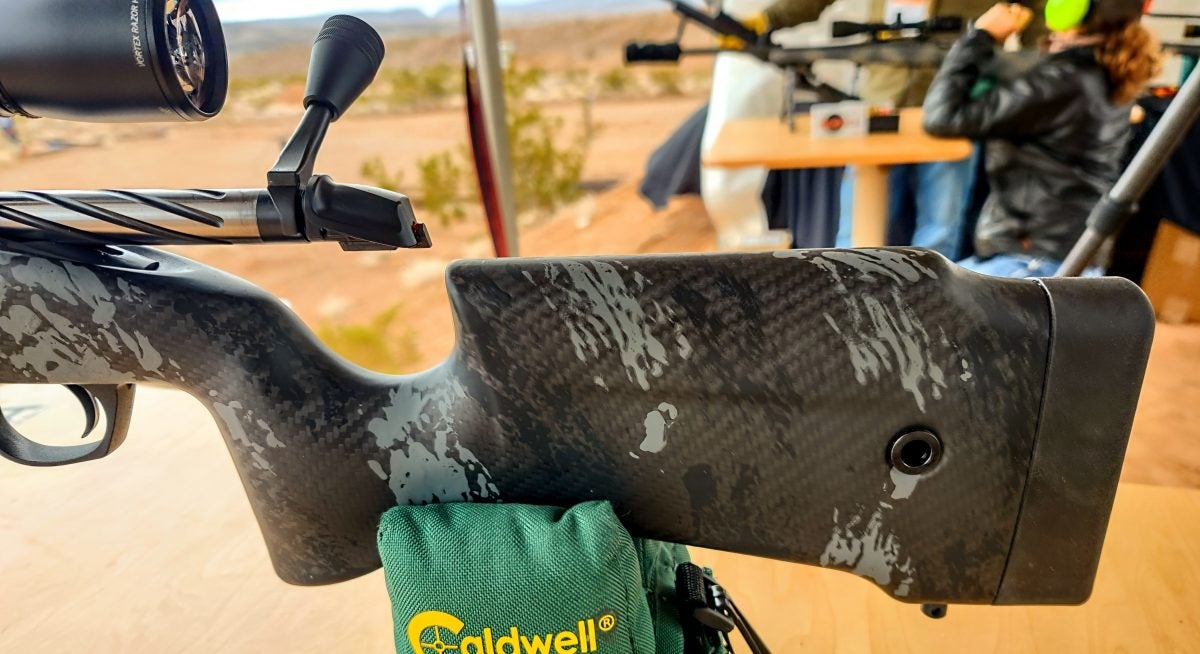 ULTRA-SMOOTH ACTION – Bergara B-14 action consists of a two-bolt system with a sliding extractor and a tapered bolt and breech stop to ensure smooth cartridge insertion and extraction. Finish with a Sniper Grey Cerakote® to complement the barrel and flute-plated to enhance its appearance and reduce its overall weight.
MONOCOQUE CARBON FIBER STOCK – This new 100% carbon fiber stock is manufactured using CF-RTM technology, a state-of-the-art method in high demand in the automotive and aerospace industries. This manufacturing process consist of assembling dry carbon fibers by hand with an injected resin. We have incorporated a carbon spine throughout the stock providing greater rigidity and strength. This technology, along with LOP spacers, sets a new standard in being the best choice for carbon stocks.
BERGARA PRECISION BARREL – Bergara's reputation is based on the best drilling, honing, and rifling processes that guarantee sub-MOA precision. The CREST barrel consists of 4140 CrMo steel fluted barrel finished in Sniper Grey Cerakote®. The muzzle is threaded 5/8-24 and includes a Bergara Omni Muzzle Brake.
M5 (AICS Style Magazine) – The Crest rifle comes with a detachable 5-round AICS compatible magazine.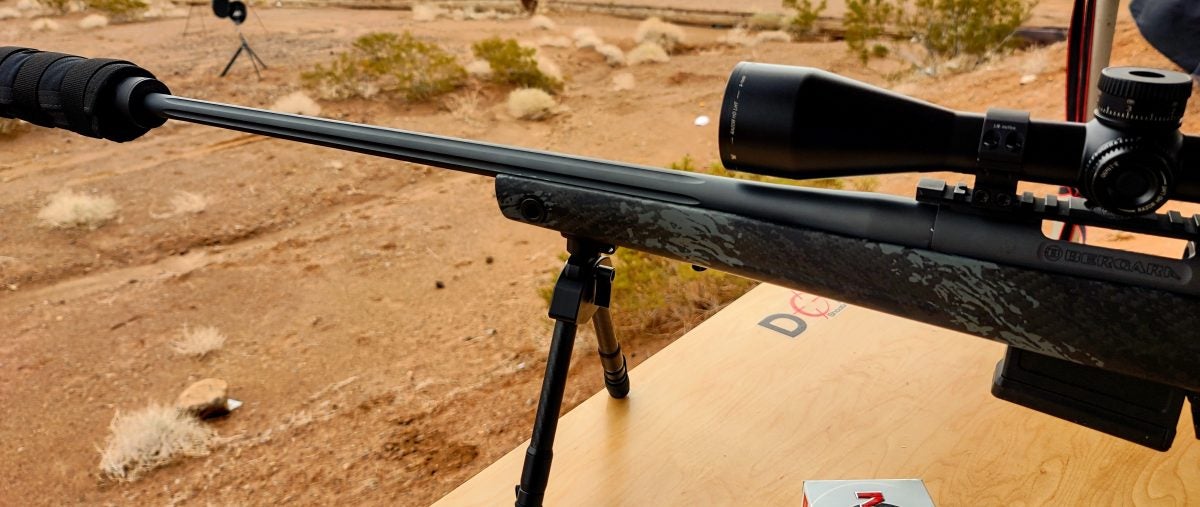 The current MSRP for all of the Bergara B-14 Squared Crest rifle offerings in its 4 available cartridges is $1,999. These all are weighing in from 6.8 – 7.2 Lb and feature 5-round magazines. While we were out at Range Day, we were able to easily connect on steel out to 900 yards with this rifles (and this was while we were fighting a 20 – 30 MPH variable crosswind). For anyone who wants a supremely accurate rifle that's equally durable and light, the Bergara B-14 Squared Crest should be on your new shortlist of bolt-action rifles to check out. As always, let us know all of your thoughts in the Comments below! We always appreciate your feedback.
The post
[SHOT 2023] Bergara B-14 Squared Crest – Carbon Fiber & Lightest Yet!
appeared first on
AllOutdoor.com
.
Read the full article here...