Discussion Starter
•
#1
•
I put my first line out in VA for a couple of days over the weekend. Here's some pics.
2 dozen lil griz dog proof **** traps, cleaned up from last year and with a fresh coat of white paint (eye appeal and easier for me to spot). I only ran a little more than a dozen traps this weekend.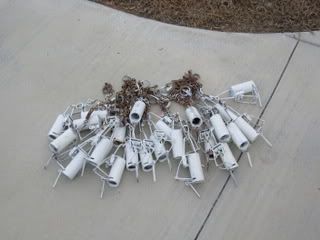 The bait goes down in the hole under the trigger, when the **** reaches down and pulls it out, he pulls the trigger and fires the trap. You can see the trigger highlighted in the darkness. I use jack mack for bait.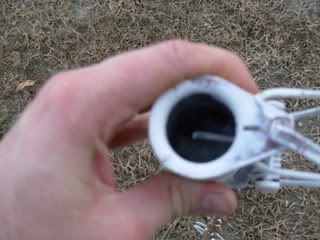 Here I'm pushing down on the jaw, which is powered by a coil spring....it's surprisingly strong. The dog is laying up against the jaw. Once the jaw is compressed into the trap, the dog will fit into the trigger holding the jaw in place.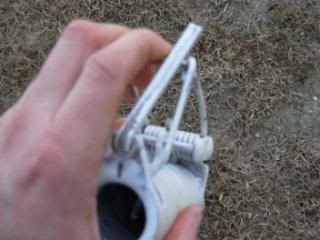 This what it looks like after the trap is set.
This is a split ring attached to the swivel at the end of the chain. This what I use to attached the trap to the cable I anchor it with.
Here's a pic of the cable. I loop around a sapling, deadfall or root. I have not yet had a pullout with this simple setup.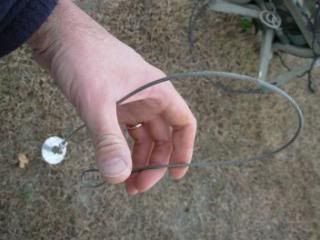 This 17 lber, 3-4XL boar is as large as any **** I've caught in Va or NC. He also fought the trap hard, and was plain wore out when I walked up. The Lil Griz held him firm!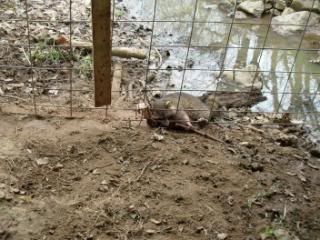 First check, 5 ****.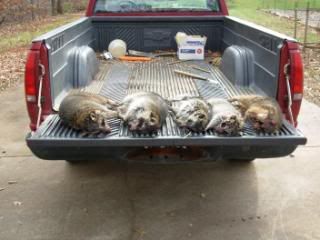 Second check, I had 2, including this beautiful sow.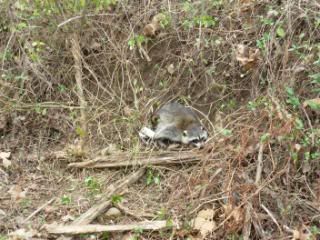 Fleshed and boarded them last night.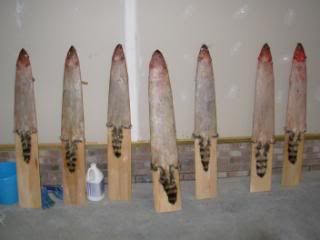 This afternoon I put out my second line, in NC....a dozen lil griz. It's hard to switch back to these coastal flat coated **** after catching the nice well furred Blue Ridge ****!