Discussion Starter
·
#1
·
I was reading through several testimonies on survivalistboards tonight, and I was looking over how some of us have found ourselves in situations where we were out in the field, soloing it as we made our way. Some folks have been in isolated situations in the backwoods, while others were doing their best to survive in homeless conditions. And all of this pondering of how to make it in society amongst the different kinds of people the U.S. has to throw at you compelled me to tell you folks about a book I published recently called The Road to Moloch.
It's a tale, inspired by true events, involving a young fellow making his way from a very small-town situation to New York City. It's told in a sort of Catcher-in-the-Rye style, with a Flannery O'Connor spin on it.
For now, it is available on Kindle. But in the near future, it may be available in print as well.
Here's the link:
Amazon.com: The Road to Moloch eBook: Laramie Hirsch: Kindle Store
And, here is the book description:
The Road to Moloch
New York: the great New City. At one time, it was the gateway for most immigrants into the Empire of America. In that place, dreams came true for the souls brave enough to make the journey. Anyone who could survive the Big Apple had shown what kind of a survivor they were.
What better way for a nineteen-year old to prove his manhood, than by leaving everything behind and venturing across America to this place? It was the perfect plan. Back then, in the 1990s, people still were optimistic, though tastefully jaded, and terrorism had yet to strike the Empire City. Such is Samson's plan. Unafraid, Samson decides to abandon his hometown in Middle America for Manhattan, the biggest thing he knows. Never looking back, Samson will have escaped the phoniness and materialism of shallow people, and finally he will be among enlightened citizens of a metropolis. With a bank account full of hard-earned money, he will pay for tuition at a great university and set a path for a bright future.
First, Samson will linger in his hometown's coffee shop, located deep in the dark bricked sanctuary of the old downtown district. He will talk with an eclectic array of people--perhaps they feel as alienated as himself. After a few hours of patient waiting, it is off to the bus station, from where he will be launched into the bigger world outside his small town. A journey such as this will last more than a day before the bus reaches the other side of the Lincoln Tunnel. Samson and some fellow teens find each other on the route north, as well as a capricious girl named Jenny, who follows him all the way to the City. Once in Manhattan, Samson encounters even more people ranging from family men, to students, janitors, international travelers, ballet dancers, prostitutes, and thieves.
Such a diverse range of people could offer so much for Samson. But what will they want of him?
New York is more than just a city of opportunity; she can also be ominous. A poet once howled that her buildings are judgment, and that her smoke-stacks stand as gods. She is Moloch the Loveless, and "her poverty is the specter of genius." The fire in Moloch's belly awaits the innocent and ignorant alike, and she stands ready to consume Samson alive, if his strength cannot hold out.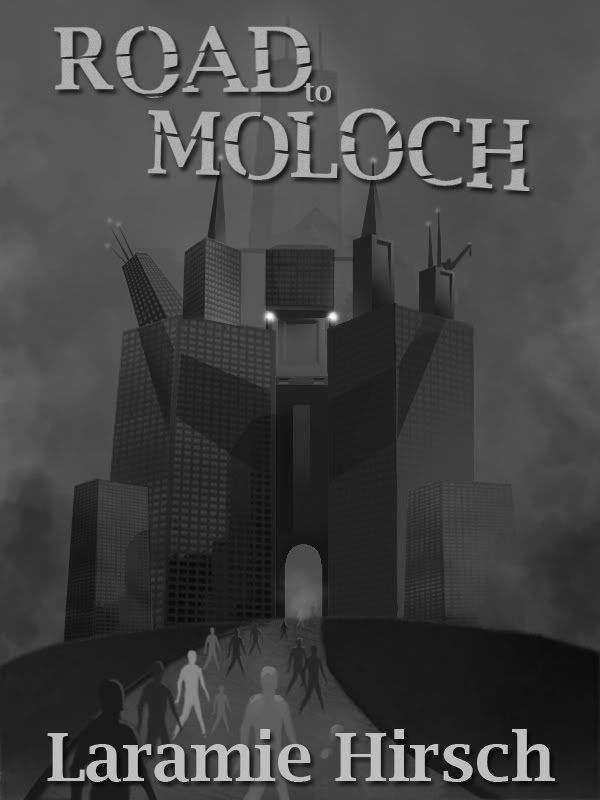 Cover art by E.S. Hammer