Oh good lord! I started, yes it's late remember I live here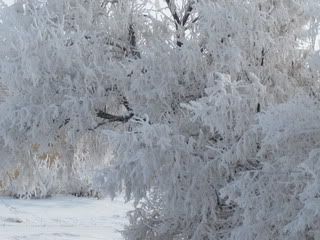 The garden will be located in this area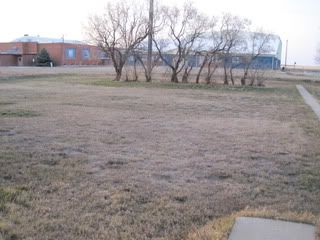 Yes it's brown and icky right now previous owners well lets not get into that shall we.
Trays in progress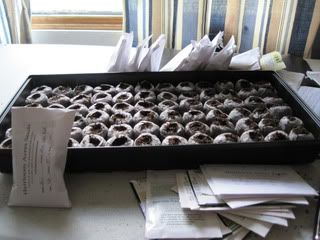 Trays of onions in their new happy home while they do their thing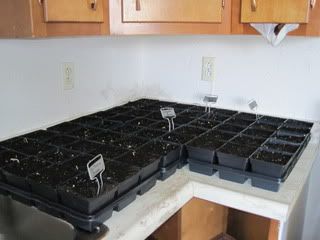 Trays of veggies and herbs doing their thing
That is not a travel coffee mug that is a new fangled watering device.
So yes today got a bunch of seeds and my onion starts in. I still have TWO more tables worth of veggies to do, and about 6 more flats of onion type things, and the potatoes gotta get a bit of eyes on them (they are shy didn't want to take a picture until they are in their pots) but a gal and her hubby can only do so much in an afternoon.
So, what actually got put in a pot today well:
Beans:
Navy
Kabouli Garbanzo
D. Red Kidney
Great Northern
Regular Garbanzo
Cannelini
Black Turtle
Peas:
Alderman
ArrowShell
Oregon Sugar Snap
Cascade Snap
Tom Thumb
Cow Peas:
6 week Purple Hull
Ozark Razor Back
Pole and Bush Beans:
Purple Green
Romano
Black Pencil
Blue Lake
Kentucky Wonder
Melon:
Golden Midget Watermelon
Hokkaido Black Watermelon
Cantaloupe (small one can't remember the name I'll update this later)
Honeydew
Tomatillo, Verde and Purple
Sunflowers
Garlic (had some volunteers so I stuck them in)
Luffa
Micro Tomatoes (they grow in pots but are real nice treats in the garden too)
Onions:
Red Baron
Stuttgarden
Whew, tomorrow I'm going to try and get peppers and tomatoes in.