Discussion Starter
·
#1
·
Welcome to today's
Photo of the Day
! Here we have an odd blip in the history of the Mauser C96. This is a Mauser C96 but something is different. It is 9mm! Not just any old 9mm but 9mm Mauser Export otherwise referred to as 9mm Export. 9mm Export is interesting since it provides a bit more pep than any other 9mm cartridge of the time. It certainly was one of the largest put into an autoloading handgun (The Mars and Webley had it beat). This was one of those answers to questions that no one asked. It basically failed because it was feared that it would over-penetrate in policing situations. Funny enough the cartridge itself would find favor in various submachine guns. The pistol chambered in it however was only produced in numbers nearing 150.
"This pistol has blade and 1000 meter tangent sights with the top of the chamber marked "WAFFENFABRIK/MAUSER/OBERNDORF A/N", "Crown/Crown/U" proof on the left and the serial number on the upper left side flats. The serial numbers on the upper left barrel extension flat and the frame have the very scarce "a" suffix found on pistols chambered for 9mm Export. It has the standard two line marking on the right side of the frame with milled panels, niter blue small parts, stock cut back strap, lanyard ring, and 33-groove hardwood grips. Included with the lot is a hardwood stock holster with matching "163" number on the mounting iron and Schork leather holster rig."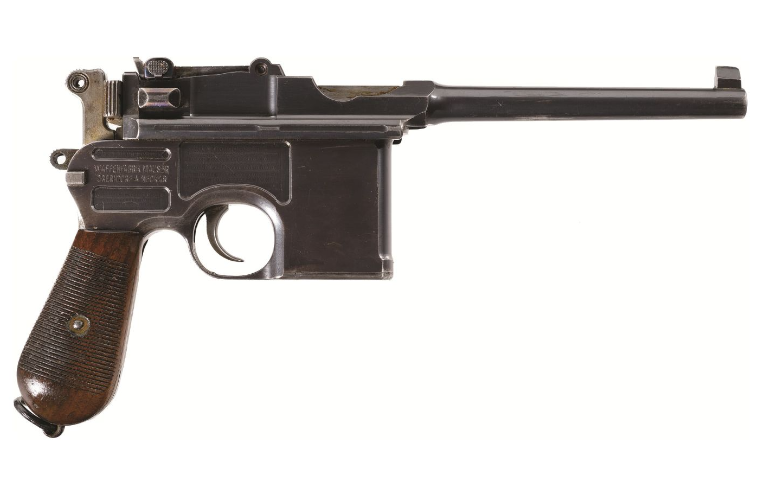 Lot 582: Mauser Model 1896 Commercial 9mm Export Broomhandle Pistol – Mauser Model 1896 Commercial 9mm Export Broomhandle Semi-Automatic Pistol with Matching Numbered Stock. (n.d.). Rock Island Auction Company. photograph. Retrieved January 26, 2023, from
https://www.rockislandauction.com/d...1896-commercial-9mm-export-broomhandle-pistol
.
The post
POTD: The Other Other 9mm – 9mm Export Mauser C96
appeared first on
AllOutdoor.com
.
Read the full article here...