·
Ready To Go At Any Time
Ok. I thought it would be cool to see what folks have waiting and ready as a bug out bag, or whatever. Not talking about fallout shelter, or tactical gear. Just about the bag you have sitting and waiting, or the pickup truck that's loaded and waiting to go, or whatever is laying in wait as a "just in case" preparation to keep you or your family alive and OUT OF THE CITY.
Here are mine.
The little one that is in the car at all times:
Small and not as useful as the other, but contains materials to build a very basic shelter, easily start fires, enough food for a few days (dried beans) and a mess kit to boil and cook them in. Also, 1 can of sterno, some para-cord, a bar of soap and 3 washcloths (also good for some filtering applications), buck knife, glow sticks, flashlight, bug spray, 2 ponchos and a bunch of other little crap. Also some tea bags (you know.... a special treat if I'm losing my mind) and a little bible. If I can't get home to get the big one and the other stuff... at least I'll have this.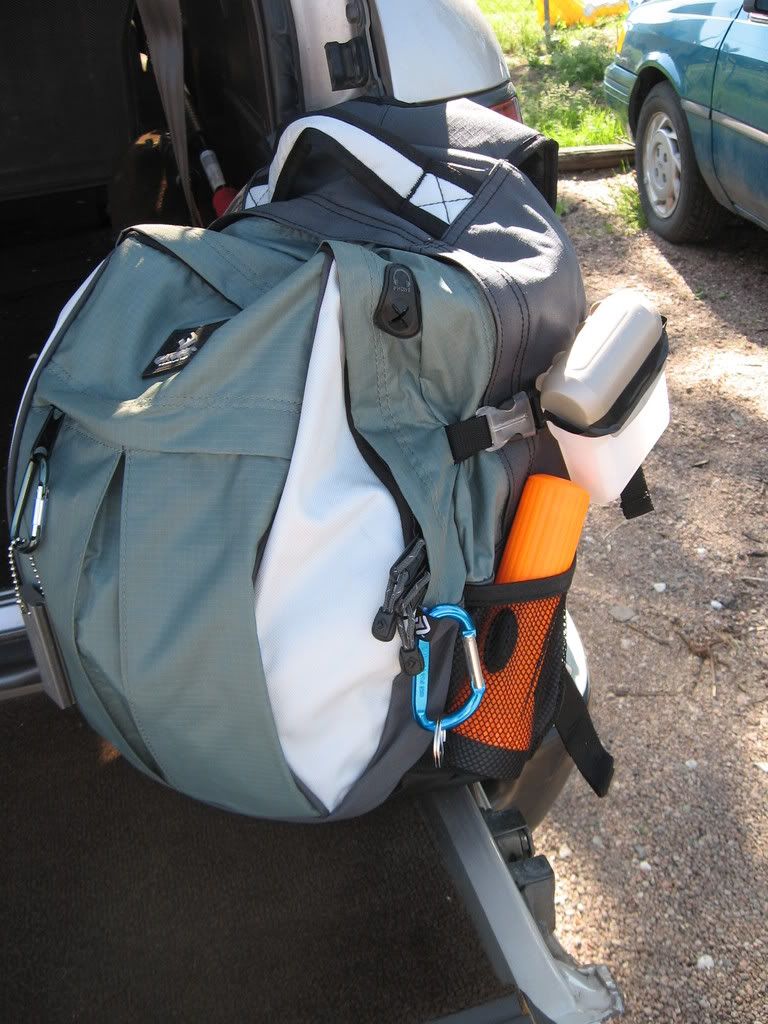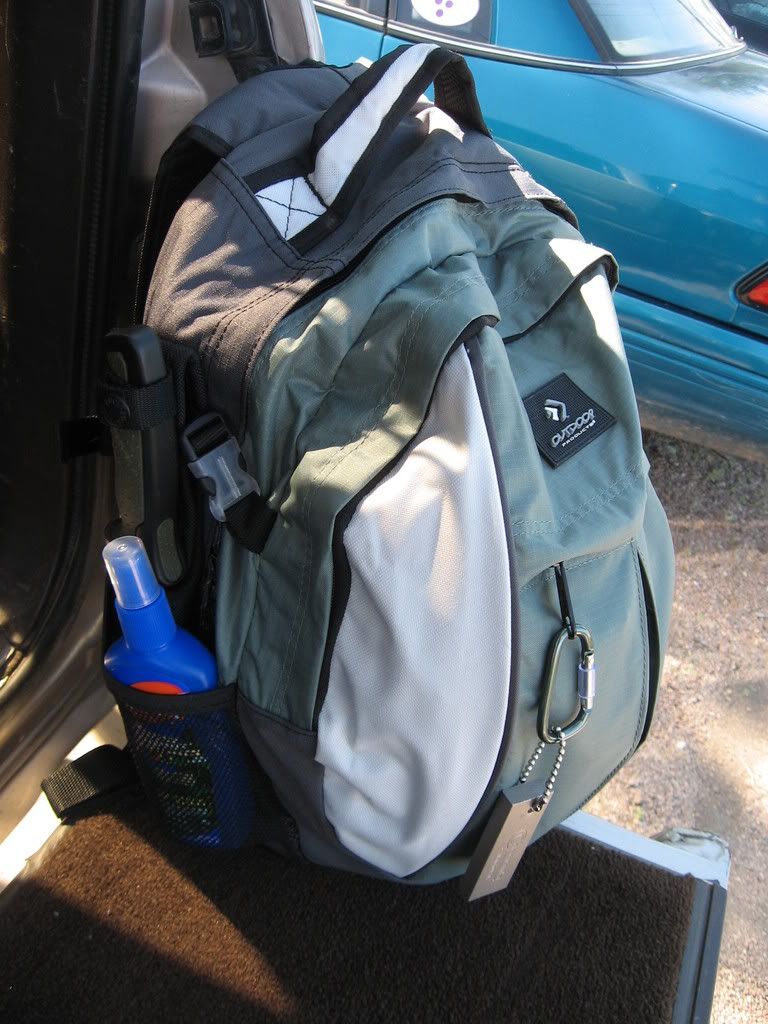 People..... don't be afraid to drop 40 -120 bucks on a good knife. this might be all that saves your life some day.
The Big one:
Enough gear to build permanent shelter for 3 families with the aid of tree debris (pine branches, or whatever). Mess kit, 2 packs of cigarettes in the mess kits waterproofed, 2 more buck knifes, hatchet, hand pull chainsaw, 15 lighters, fire starting sticks, waterproof matches, dryer lint, 3 rolls of tightly compact painters plastic for wind proofing shelters, lots of paracord, nylon rope, nylon string, 5000ft of fishing line (for fishing, lashing twigs, mending clothes, etc....), duct tape (just becasue..... it fixes anything!!!!!), 4 disposable flashlights, 1 disposable lantern, 20 glow sticks, soap, washcloths, 4 full size garbage bags, asprin, naproxin sodium, sleep medication, alka seltzer, pocket knifes, whistles, compass, hammock, 4 pairs of clean new socks, electrical tape (great for making hand grips for home-made hand tools ans stuff like that), machete, binoculars, canteens of purified water (I refill them every month to keep it somewhat fresh), water purifying tablets (enough for 50 quarts so far), bandaids, antibiotic ointment, bandages, other medical stuff, a slingshot (which I've been practicing at and hope to make useful for small game if I cant get a rifle in time to get outta town), and a BUNCH of other stuff I can't remember right now, but I'm gonna be adding more soon.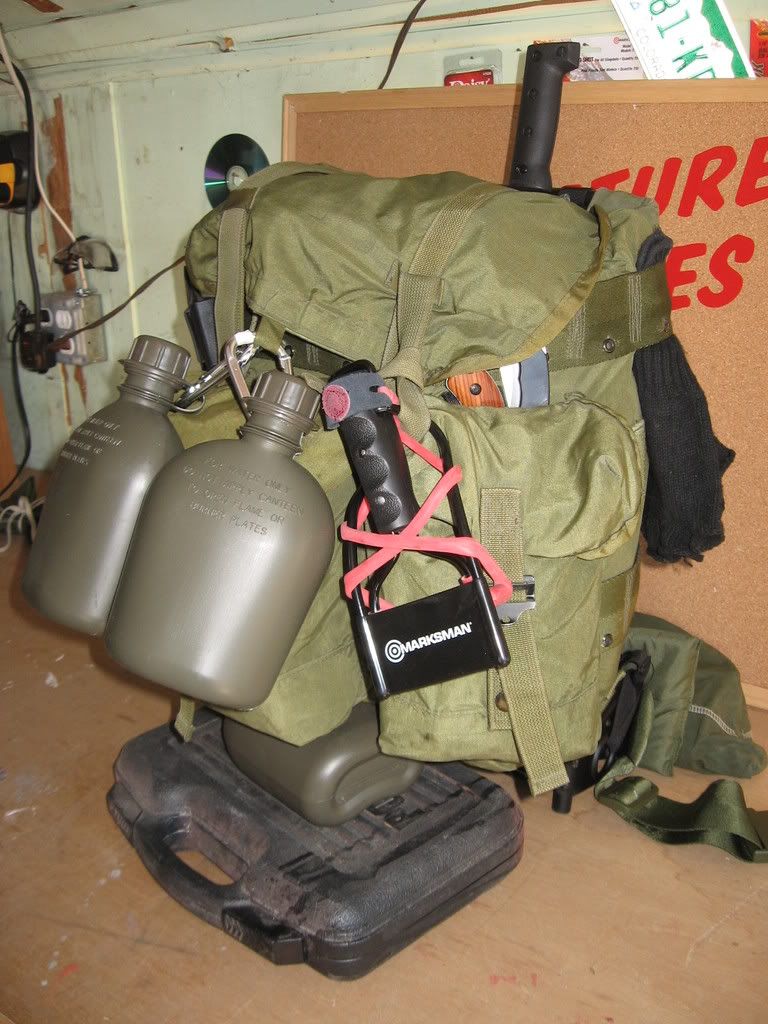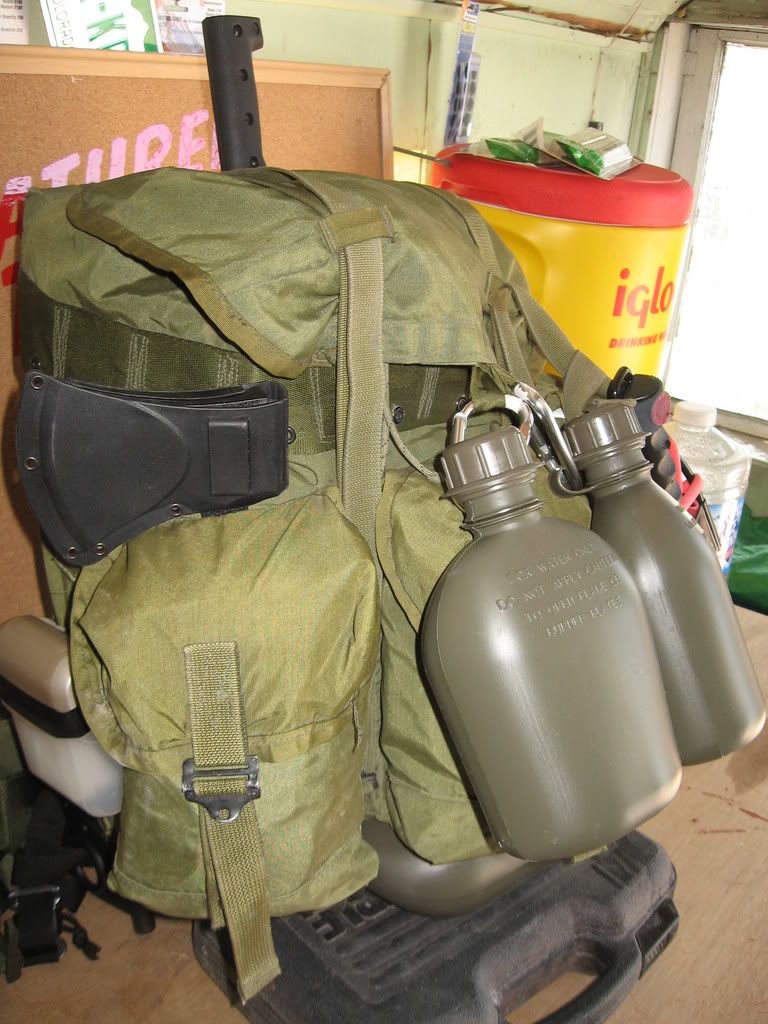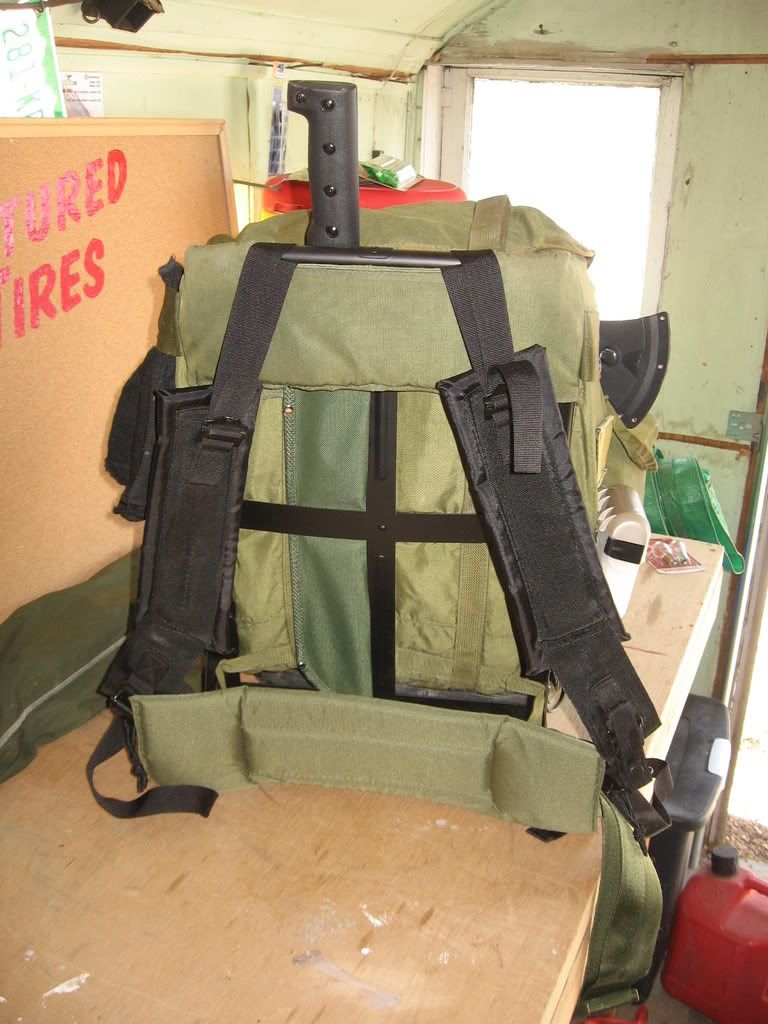 Other stuff:
12 gallons of gasoline just sitting waiting for use. once a month I will put them in the car and refill them to keep the gas fresh. I figure why limit my running distance to a 25 gallon tank when I could have 10 more gallons to add to that supply. Plus it might make nice currency. who knows.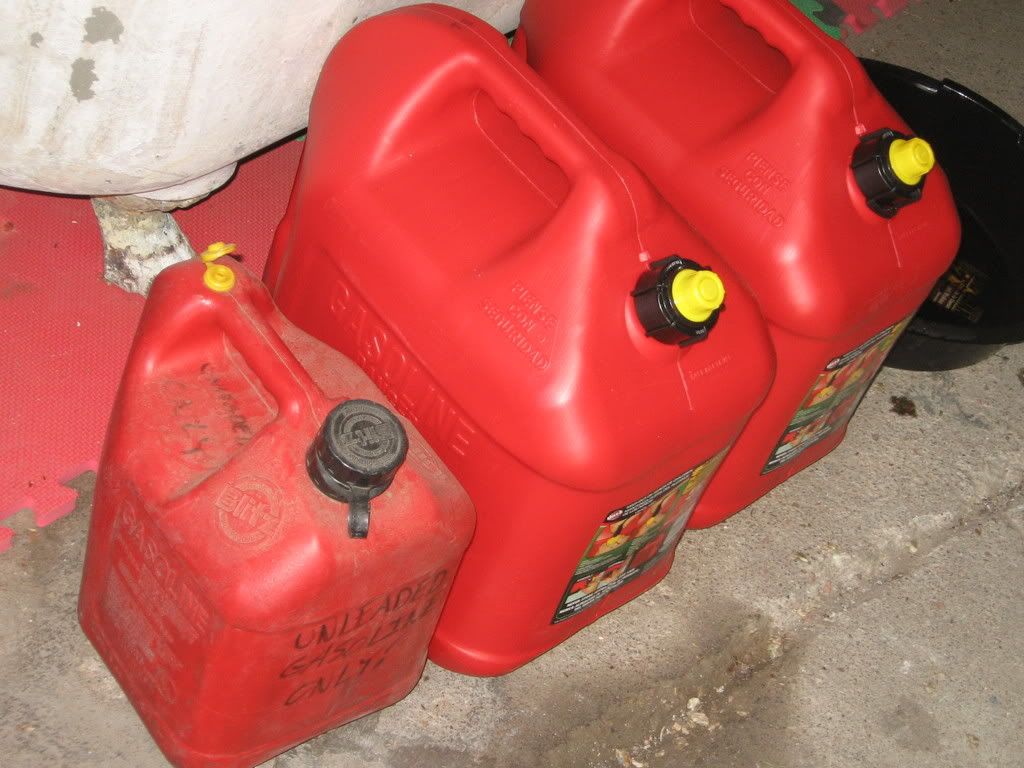 Camping Gear and dried food. I have 30 lbs of beans and 30 lbs of rice. If I run, there are others coming most likely that live pretty close to me so I figure we can get some of this stuff. Maybe not all of it but some, and if we're stuck at home for urban fun.... at least we have some food. I personally don't intend to stay at home while the world ends.
Tents, tarps, sleeping bags, cook stoves, pots, pans, cups, lanterns (oil and gas), and stuff like that in the big black tote. Would be awesome to be able to get it, but I'm not counting on it.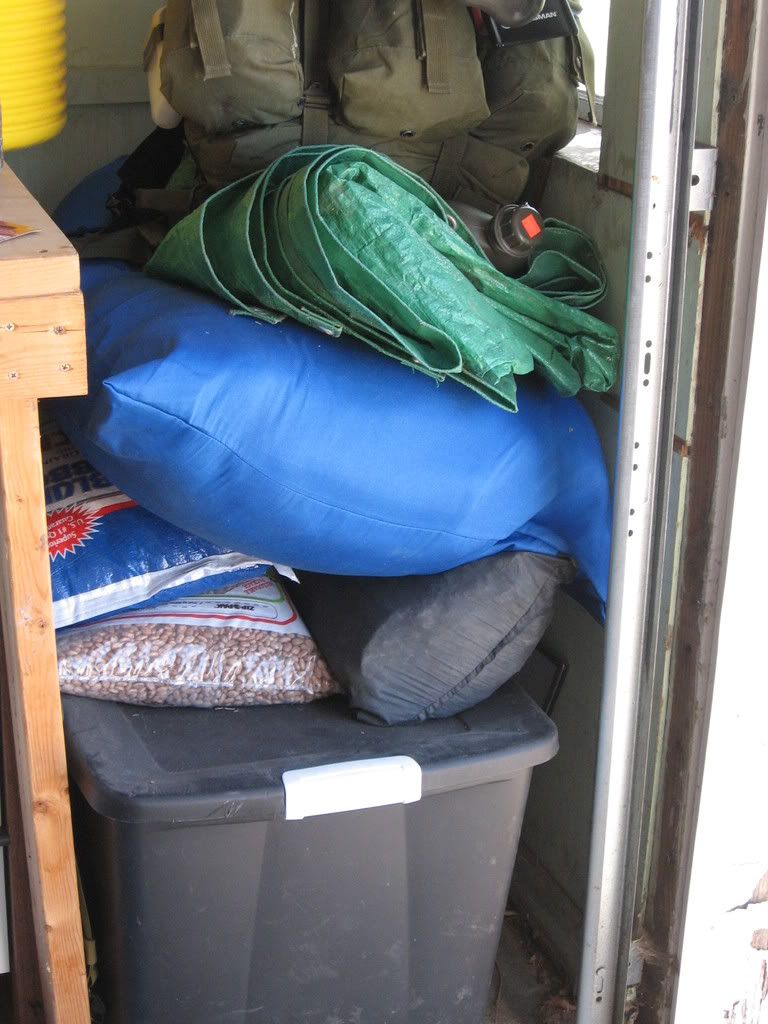 Final needs:
I have other needs for supplies that I'm working on, but I need to find a smart hidden spot to hide a .22 long rifle in my car (maybe behind a taillight in a quarter panel or something like that) where I could always have it in the car but not worry about anyone finding it. Then I'd have something to hunt small game with.
I have almost NO budget to work with, so the fact that I'm this far along is fairly miraculous in itself. I'm hoping to get a little bit further along, but for now I'm confident I could make it for a while if I can just mentally prepare for it.
ANYBODY ELSE WANNA SHOW THEIR PORTABLE BUG OUT CRAP!?!?!? POST NOW!