Discussion Starter
·
#1
·
This is my survival pack or BOB, but I don't really like that term. It is based off of a wilderness survival situation. The duration that I am planning for is 7-10 days, with the tools to find food, water, and shelter indefinitely. Since I am new to this site but not to this idea, I am going to post a couple pics of my older configurations. Then I will post my latest one, which already needs updating.
This is an older configuration which I will call Gen 1. It was in a Med. Alice Pack. I have dropped some things since this picture that I have found I didn't really need or didn't have room for. The fleece jacket, buttpack, survival manual, 8x10 tarp, zipties, shake light, and mora knife are some of the things dropped.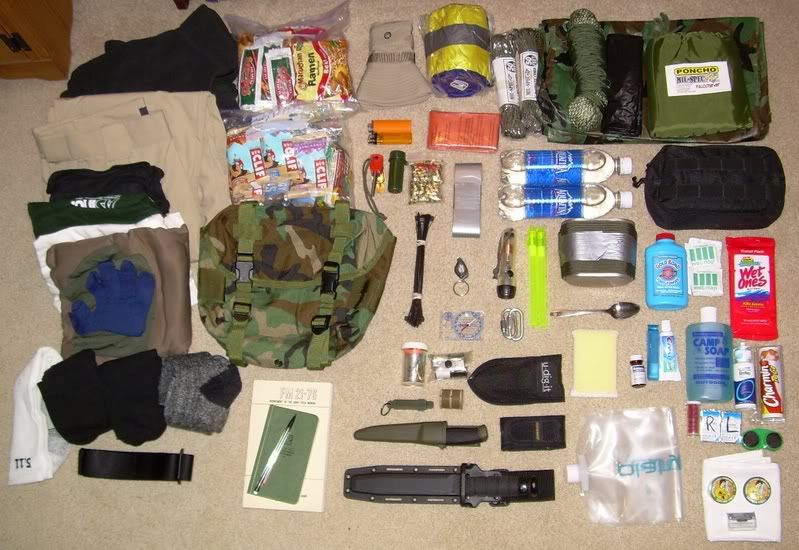 This is Gen 2. It was in a Jansport Indio 50 pack. Some of the changes from this setup were dropping the GI boot socks (they were cheap and need upgrading), moving the platypus bladder, HeatSheet, and IMPS-Net to the GHB (which I will post next), and making a smaller version of my FAK.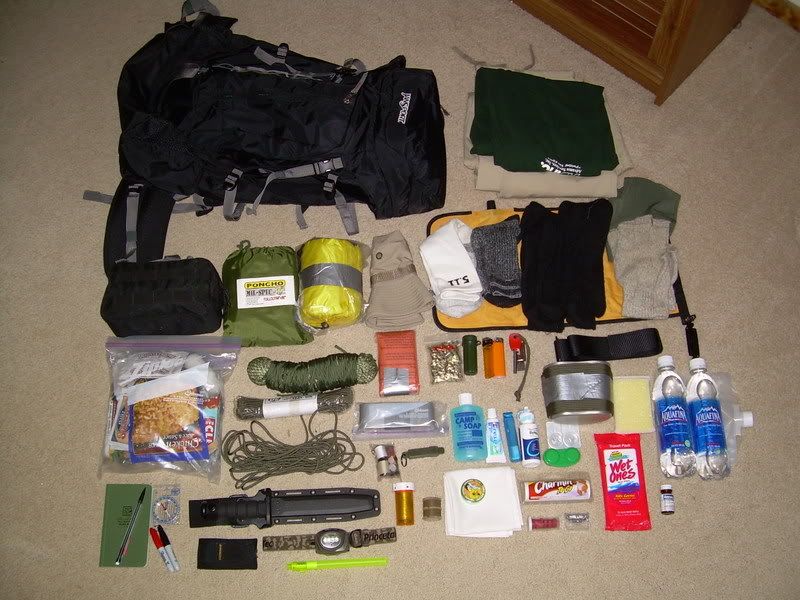 This is the latest version of my BOB or Gen 3. This is how it is currently packed except for one clothing item that has been changed.
Spec-Ops T.H.E. Pack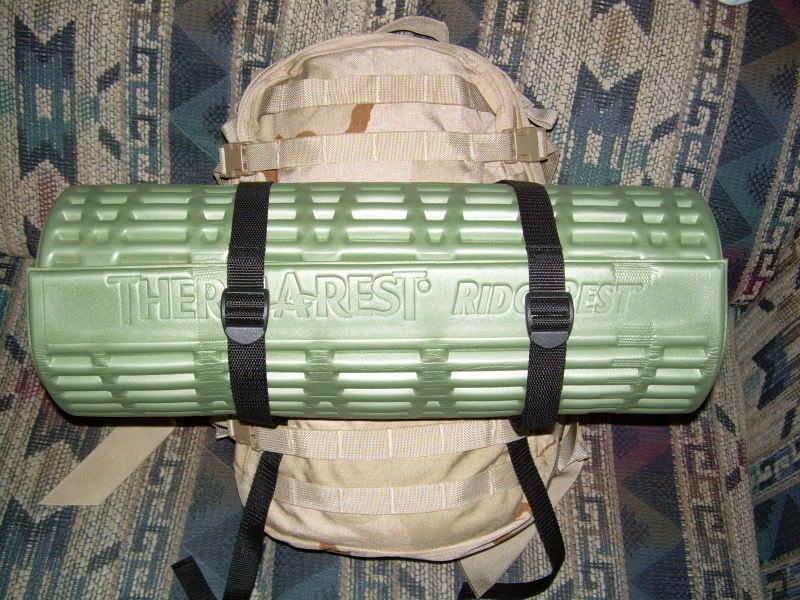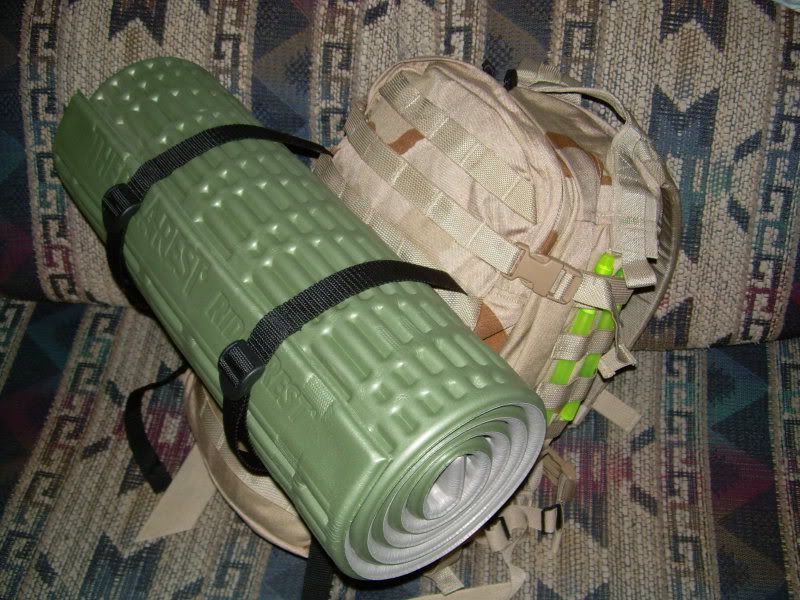 I really like this pack. It is smaller than the hiker-style I had before, so I am running a little tight on space. I am wondering if I could fit a Kifaru medium pod under this pack. This pack is definitely tougher than pack I had before, which was only 500D.
Here is the tools and smaller items in the pack.
Ka-Bar
Pelican 1040 Dry Case
Ziplock Freezer Bags (3)
Duct Tape (10 yards)
Leatherman Wave
Pocket Widgy Pry Bar
USGI Sharpening Stone
Fishing Kit (in OD match case)
Norton's U.C.S.
RIR Memo Pad
Mechanical Pencil
Mini Sharpie (Red and Black)
55 Gal 4 mil Trash Bags (2)
LED Light Sticks (2)
Princeton Tec Quad LED Headlamp
AAA Batteries (3)
Sewing Kit
USGI Earplugs
USGI Trip Wire (80 ft-OD)
Firesteel
Cottonball/Vaseline Tinder
Wetfire Tinder (4)
Bic Lighters (2)
First Aid Kit
Compass
Playing Cards
Sanitary Kit
Lightload Camp Towel
Toilet Paper
Wet Wipes
Purell Hand Sanitizer
Foot Powder (1 oz)
Handkerchief
Camelbak Unbottle (3L)
MSR Miniworks EX Filter
Katadyn Tabs (30)
Nalgene Bottle (1Qt)
The only thing that I want to add to this section is a MSR Dromedary Bag (4L). I am happy with the filter, bladder, and nalgene. I haven't tried the Katadyn tabs yet, but they are supposedly excellent.
Mountain House Freeze Dried Meal
Mainstay 1200 cal Ration (3)
Harvest/Cliff Bars (4)
Propel Drink Mix Packets (10)
Salt (2oz)
Stainless Steel Canteen Cup (wrapped w/ 27ft paracord)
Light My Fire Spork
This section could use some work. The mainstay ration and bars are getting old, so they will be replaced with new versions. I am going to add 3-4 MRE entrees to round out the food. The canteen cup will be replaced with a MSR Titan Kettle. I want to add a stove. I haven't decided between the Trailstove (wood burning) or a MSR pocket rocket or similar (canister).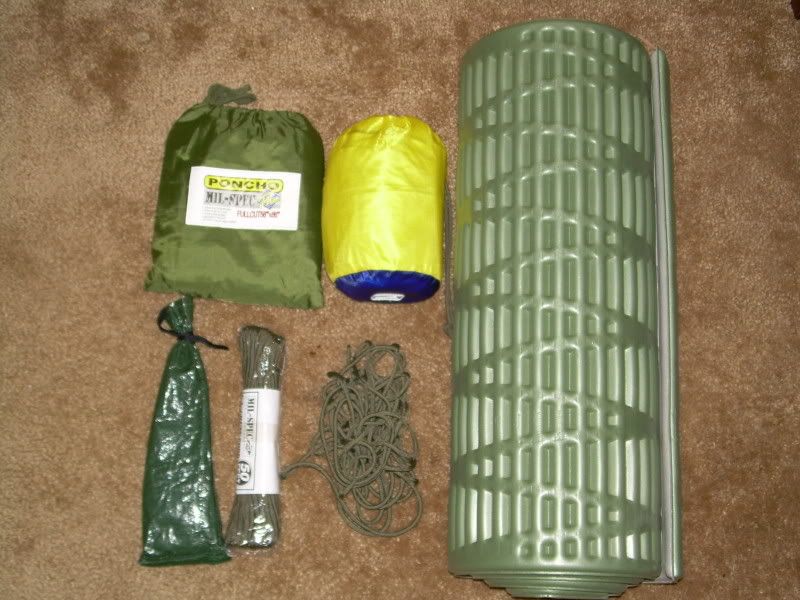 GI Poncho
AMK Thermolite Bivy
Alum. Tent Stakes (6)
Paracord (~75ft)
Thermarest Ridge Rest Pad
This section will have to be modified soon. The poncho, paracord, and pad are all good, except that I have been using the paracord for other uses and need to put another 50-100 ft in. The thermolite bivy did not pass my testing. It is a first generation and is not durable enough. It developed a tear. It will be discarded when I get my new sleeping bag. I also want to find a good gortex bivy. I had a AMK Heetsheet, which got moved to the GHB, so I want to get one of the larger casualty blankets for the BOB. Some stronger tent stakes will need to be added.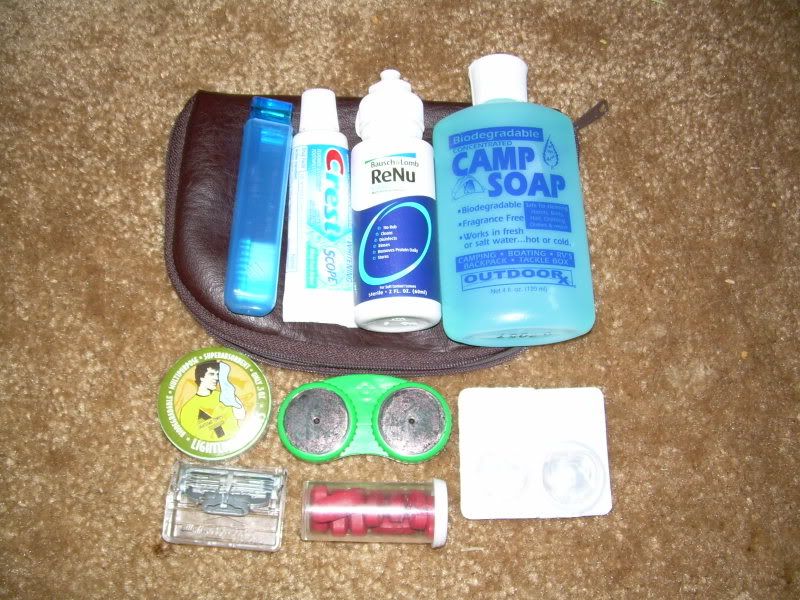 Camp Soap (4oz)
Contact Solution
Contact Case
Spare Contacts
Toothbrush/Paste
Lightload Camp Towel
Razor Head
Vial of Vitamins (9)
I need to add a spare pair of glasses and change out the crappy camp soap for some Dr. Bronner's Castile Soap. Also, ditch the wet wipes from the earlier picture for some Hoo-Ahhs.
Long Sleeve T-Shirt
Heavyweight Polypro Bottoms
Nylon Balaclava
Polypro Glove Liners
Fleece Watch Cap
Boonie Hat
Synthetic Insulated Socks
Wool Insulated Socks
I am assuming that I will be wearing seasonally appropriate clothes when I bug out. My choices for clothes is mainly to increase warmth of the clothes I am wearing. I changed out the cotton t-shirt for a synthetic one and need to add some boxer-briefs and lightweight boot socks (3 pair).