My next review is going to be on some Malkoff products. Mainly the Malkoff MD2, switching ring, and M60/M30 P60 drop-ins.
The
Malkoff MD2
can be bought either as a host or it can be bought as a ready to use flashlight. The MD2 comes in 5 different coatings. HAIII natural, HAIII Black, HAII Black, and Camo. It is meant to be used with either an M60 module or an M30 Module. The MD2 is a 2 piece design. The switch is part of the body and this means that you just remove the head to replace the batteries.
The MD2 is a single output light but can be coverted to a multi-mode through the use of the
hi/lo switching ring
. This ring just replaces the stock module retaining ring in the head. The switching ring works on both type of module. Once it is installed you fully tighten the head for high, or if you just barely loosen it that will activate the low mode. The bezel rings are easily changed with a very small screw driver or with a bent paper clip.
Now for the drop-ins! These drop-ins are P60 sized drop-ins which means they will fit your MD2, your Surefire C series lights (6P, C2, G2, 9P, M2, etc...) or your Solarforce L2. The
M60
has an input voltage of 3.8-9 volts that means you can run 2-3 cells. The
M30
has an input voltage 1-5.5 volts which means you should only use 1 cell with it, like an 18650. With the M30 you can also use 2AA's if you can find a suitable host. The modules come in a bunch of different versions. Here is a quick guide...
F = Flood
L = Low
LL = Low Low
W = Warm (warmer tint LED, these give better color rendition but less output)
MC-E = extremely high output LED but is almost all flood, not a good spotlight.
Build your own
here
starting at $84.60!
One of the best things about Malkoff products is the warranty and the customer service! If you ever call or email Gene or Cathy Malkoff will almost always talk to you personally. They are awesome people and very helpful! Here is a Quote from Gene from over on CPF
"If you experience a failure of a M60 for any reason. (Even if you accidentally tape some C4 to it.) Just contact me and I will replace it. Some of the team training members at Magpul Dynamics have over 100,000 rounds on their M60's with no failure. I stand behind my stuff.
Thanks, Gene Malkoff "
Like I said, awesome warranty and awesome people!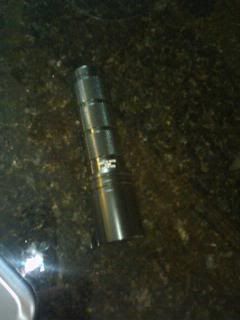 Novatac 120P, Malkoff MD2, Surefire 6PL, Olight M20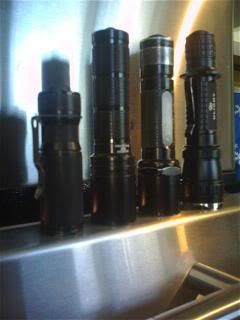 Almost forgot! All this stuff and a lot more is available at
www.malkoffdevices.com