Discussion Starter
·
#1
·
I got this recipe at a different forum. It looked so tasty!!! I love Quince! So here you go!
:thumb:
-------------------------------------------
Kweepeergelei is simply "Quince Jelly" in dutch. I made some quince jelly last year, but it turned out yellowish and thin. The jam on the other hand was dry and extremely thick. This year, I resolved to do it differently.
The quinces were cut into small pieces, placed in a large pot and boiled for three hours.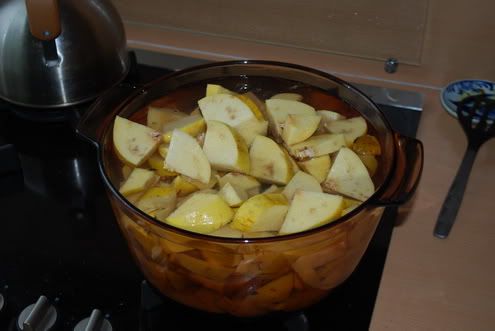 Next the pulp was ladled out of the liquid and placed in a collander lined with a thin cloth.
It was allowed to sit for three hours and drip until the pulp was dry. Some folks leave the pulp to drip overnight.
We then tossed the pulp into the bin and poured the liquid back into the pot that the pulp had been boiled in originally. --Some folks use this pulp to make Membrillo. Membrillo is the Spanish word for quince, I believe...but the paste that they make they use differently than I do.
The fluid is brought back to a boil and then an equal amount of sugar is added while stirring.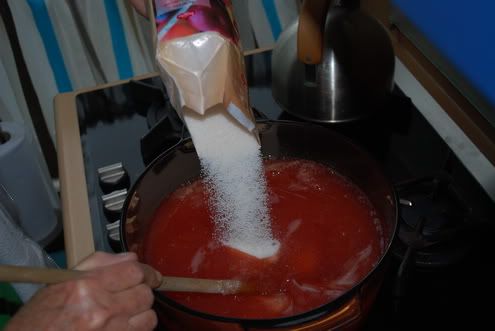 Once boiling, the liquid jelly is poured into sterile pots and capped.
**At this point some people add a sprig of Rosemary into the pot before pouring the boiling jelly in. I am not ready for Rosemary early in the morning, but if one uses quince jelly with Rosemary for meats--then it's a whole other thing. Tasty.
The leftover jelly was put into a little "restaurant jelly container" for using on toast at the breakfast table.
**I do not believe that one needs to use pectin if they boil the liquid down a bit (by not more than 1/3).
This year I am delighted with how the quince jelly turned out and while I would recommend it to anyone, I must say that the jelly does have a distinct aeromatic quality that makes me think of lokum (Turkish Delight). For that reason it's worth sampling before making a large amount. I find the flavour delightful, but everyone's taste can be different.