Discussion Starter
•
#1
•
The morning started off at 4:30 am, got up, went and woke Korey up, took shower, got dressed, checked on Korey and he had fallen back to sleep. Woke Korey up a second time. As I was loading stuff into the truck, Korey got dressed and finally we were ready to go. The morning air was cold, somewhere around 36 degrees.
On the way to the woods we stopped at a local corner store, got a bag of pork rinds for breakfast and something to drink.
Got the the woods around 5:45, unloaded 4-wheeler, then made the 15 - 20 minute ride to the stand. By the time we got to our location, my face was numb, I should have put my face mask on before we made the trip.
The sunrise was beautiful with just a couple of clouds. By 8:30 Korey and I decided to get out of the stand and go on home - because we had not seen a single thing.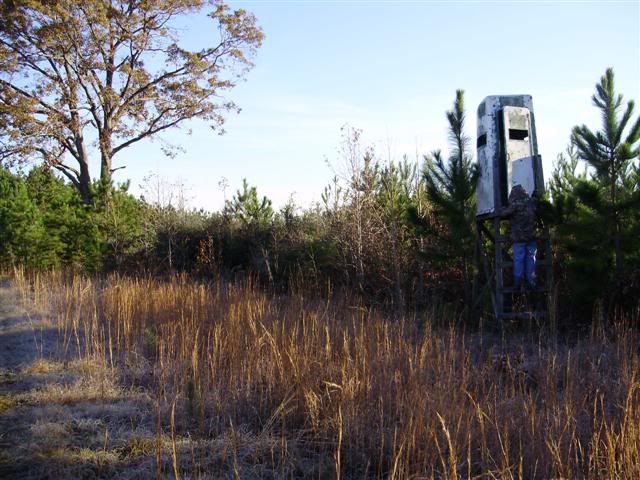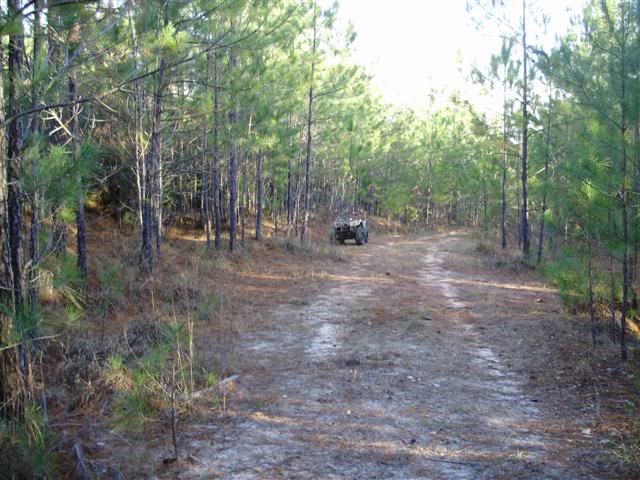 Around 3:30 we left the house, headed back to the woods and got in the stand around 4:00. This time we were in a ground stand, instead of the one up on legs.
Korey had stayed up too late to night before playing online computer games. Somewhere around 4:30 he fell asleep in the chair. I let him sleep and kept an eye out for the deer.
Around 5:15 or so Korey woke up. I whispered to him if he had a good nap, he said no. The side of the jacket had left an imprint on his cheek. From how loud he was snoring, I figured he was sleeping pretty good. We were just about ready to go when 2 does walk out. Korey got binoculars to get a closer look at the deer. After looking at them to make sure they were not a spike, Korey got his rifle up, and put the scope on the deer. One of them walked into the tree line and did not come back out. The other doe had its head down eating on the corn from the feeder.
The doe was in a bad position for a shot with its rear end directly towards us. I whispered to Korey to wait for a good shot so the deer is taken in a humane manner. After a couple of minutes the doe turned broadside, and was in a perfect position for a shot. Korey whispered if it was ok to shoot. My reply was whenever you are ready. One shot from the 30-30 dropped the deer where it stood.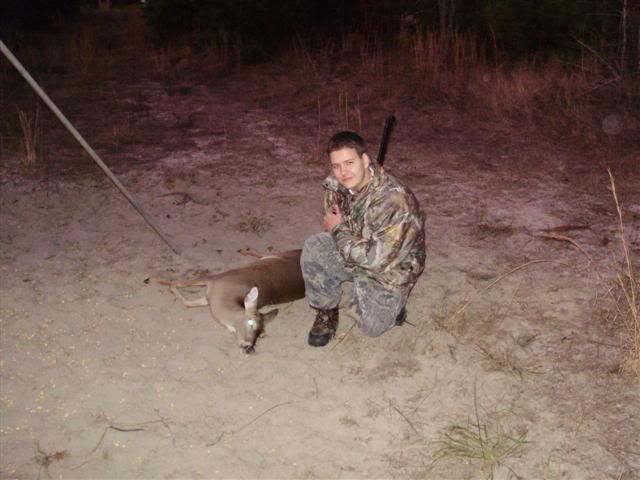 The doe was dead before it hit the ground. If it felt any pain, it was very little. Some people may ask how I know this. When the deer hit the ground, it did not move again, it did not even kick. If the deer was still alive, even in the slightest amount it would have tried to get up and run to safety.
So far this hunting season all we have seen it does. So Korey and I decided to go ahead and take one. This takes some of the pressure off. Meaning in a week or 2 our freezer will be 1/2 full of deer meat. We just need to get one more deer (that has to be a buck) and our freezer will be stocked for the next year. Usually 2 deer will last for an entire year. The doe weighed exactly 100 pounds.
For those of you that might be wondering about the rifle, bullet weight etc. The rifle in a Marlin model 336 gold trigger with a 3 - 9 Simmons scope. The ammunition is Remington Express Core-Lokt 150 grain soft point. The doe was around 60 - 75 yards away from the stand.