Discussion Starter
·
#1
·
Just a little review of a recent khukuri I received. A Nepalese custom shop that differs a little from the 1 centimeter thick khukuris many have seen...
The
Kailash Khukuri
, Historical Service Issue Khukuri. Khukuri is the correct spelling and helps with the pronunciation. I think we westerners have shorted it to kukri, but here is Kailash's explanation:
You may well have seen khukuri spelt a few different ways.
Within the knife community, the correct way to refer to these blades is a point of some contention. We refer to our knives as khukuris for a few reasons.
Firstly, it allows for the correct pronunciation of what is a Nepalese word. Khoo-koo-ree.
The "H" after the k signifies in Nepali that it as an aspirated constant, so should be pronounced a little bit harder that the second k. The terms khukri and kukri both miss out on the second vowel sound and blend the whole word together.
We use this spelling because we are a predominately Nepalese run company. The only non-Nepali amongst us is our designer Andrew and even he has a bit of Nepalese under his belt.
In a way, the different spellings have over time acquired different meanings, with the Americanized spellings coming to refer more to westernized versions of the blade, from the recurved bowie type blades that go by the same name all the way to mass produced stamped machetes.
We are Nepalese people, making Nepalese knives the Nepalese way.
So we spell it Khukuri.
I ordered the Historical Service Issue:
Kailash Historical Service Issue
Historical Service Issue - 11.5"
•Blade Finish:Satin
•Hardware:Steel
•Handle Material
esert Camo Micarta Wrap $45
•Handle Length:Medium (4.75")
•Sheath:Traditional Dap
•Grind Type:Standard Grind
I ordered on 1 March, and they finished it on 3 April; shipping only took about 7-8 days…not bad at all.
They updated me with pictures with the process of forging, grinding, and the oil quench: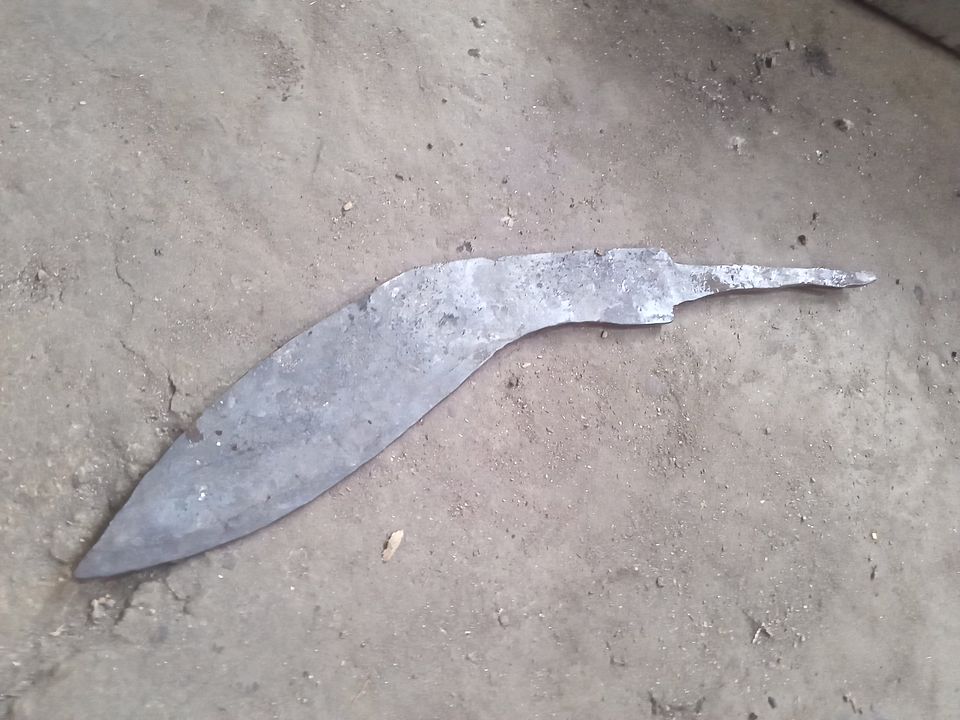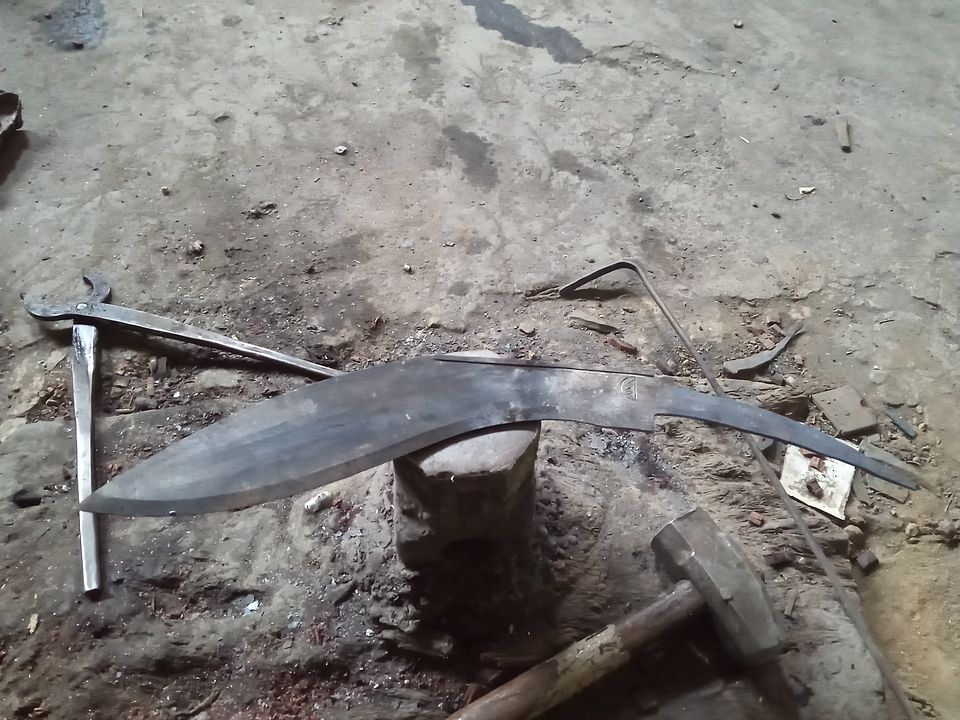 They do offer a custom Kydex sheath which is actually a good way to go if you want to use it more in the field and lashed to your pack. What drew me the most was their micarta-wrapped handle option, something I really want to try out…it was worth it. My sheath didn't come with the traditional karda and chakmak (smaller accessory blades), but it also meant a thinner sheath, which I wanted.
This is the "stick-tang", but as you'll see, they're not rat-tail size. The Panawal design is the full tang khukuri and I have a couple. They're heavier and I've always found the smaller tangs balanced better and never had any concerns about being a weak-link. My oldest Himalayan Ang Khola khukuri with the buffalo horn handle has done a ton of hard chopping…zero issues.
This is a thinner blade than my others. My buffalo-horn handled khukuri weighs 24.6oz, the Kalish khukuri Is only 17.6oz. This is just a comparison of what I have as I know you can get the thicker blades as they have their own version of the Ang khola.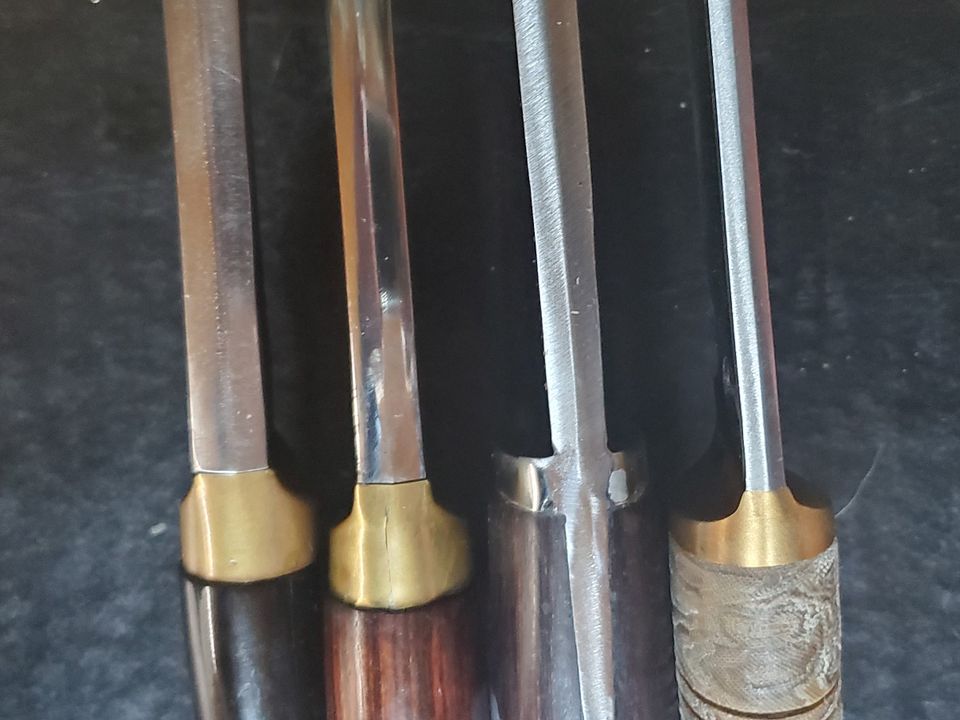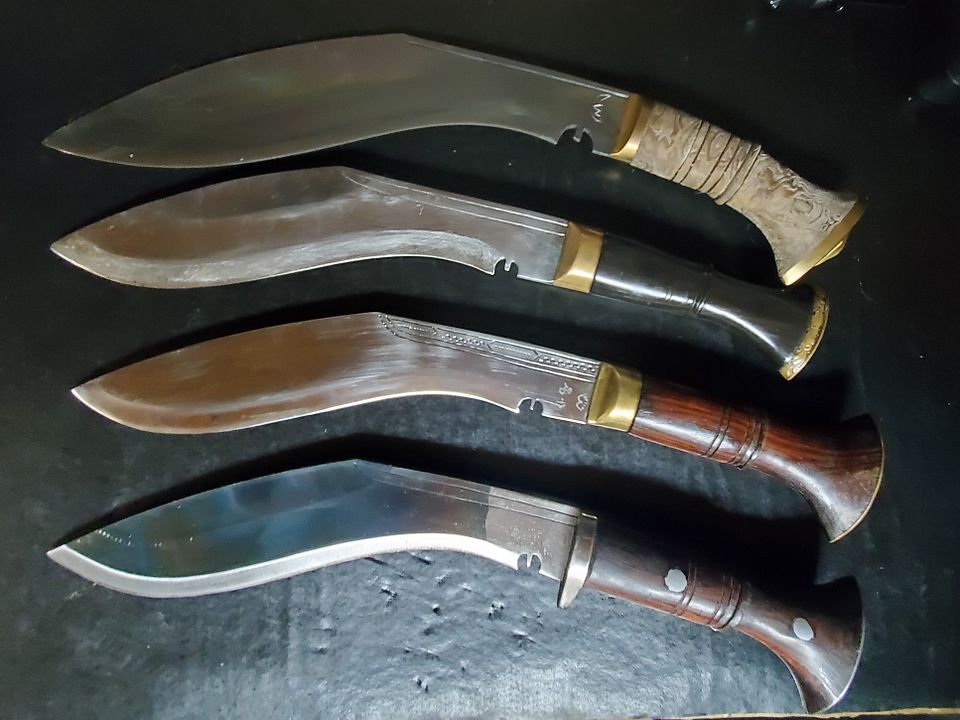 It feels really light in the hand and you can see the more drastic curve in the handle, which I found really locks your hand in without hindering movements. The micarta wrap is excellent, tactile, and slightly larger in girth, which I like.
Fit and finish is excellent with one exception. I ordered the "satin" blade finish, and I should have went with the polished finished; more of a preference than an issue. I've just found the higher polished finishes are easier to maintain, it's not about looks, just easy of maintenance. The grinds are very symmetrical…better than some production blades I've seen.
As you can see, it's a lighter, thinner khukuri. It won't be as good of a chopper as the thicker Ang Khola type khukuri, but I wanted a lighter version and didn't care much for the typical Sirupate styles. More intended for lighter, green vegetation and chopping small wood. I did just a little chopping on some briars and smaller branches; very handy and maneuverable and less fatiguing than the shorter, thicker khukuri.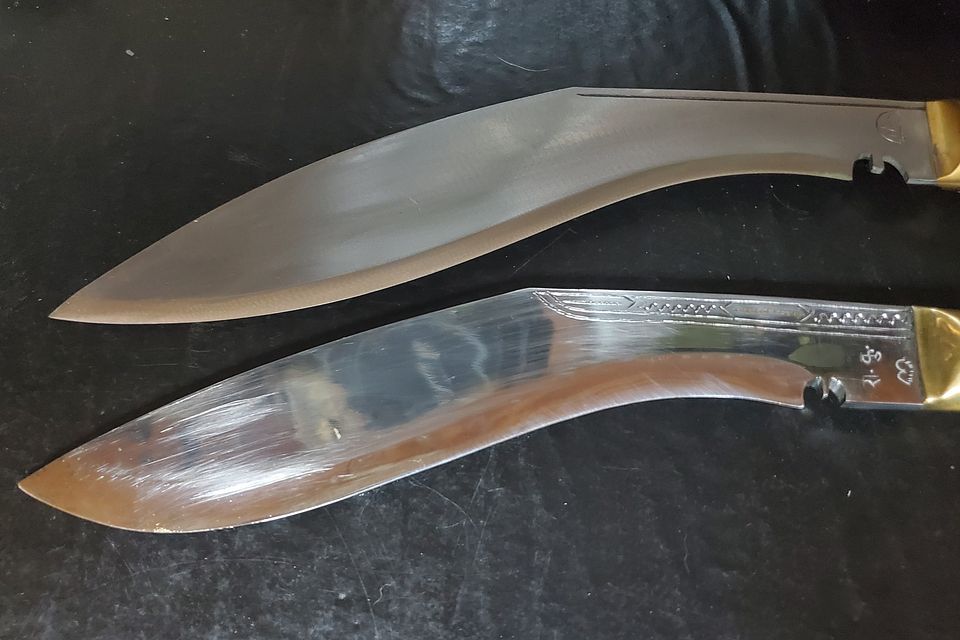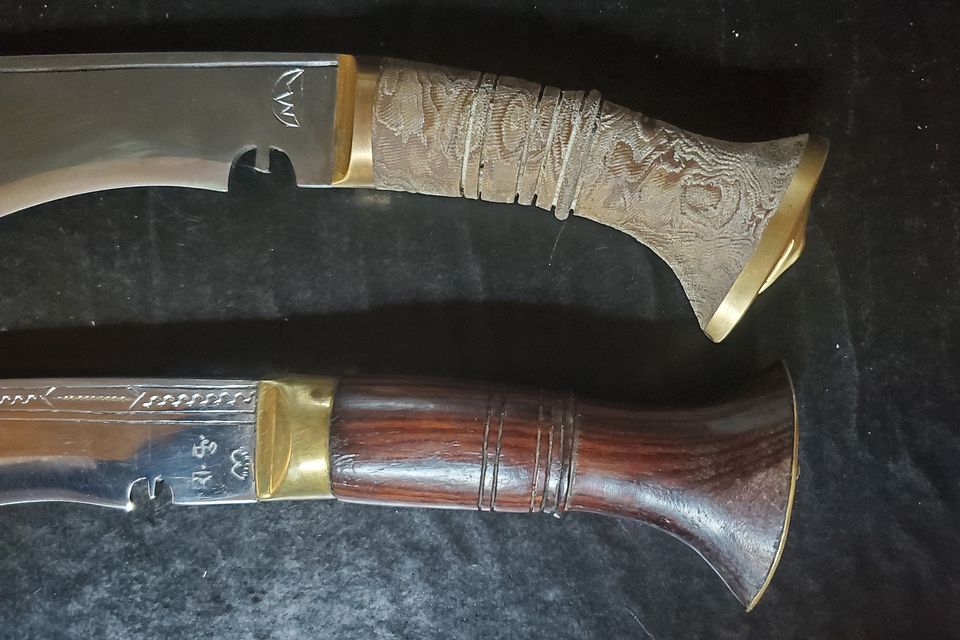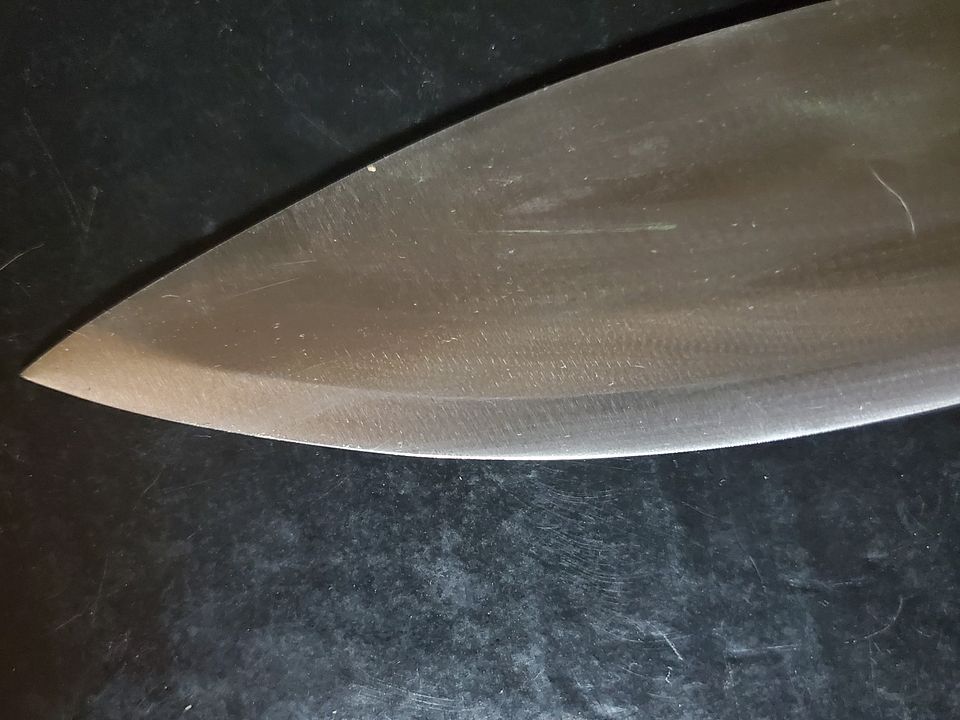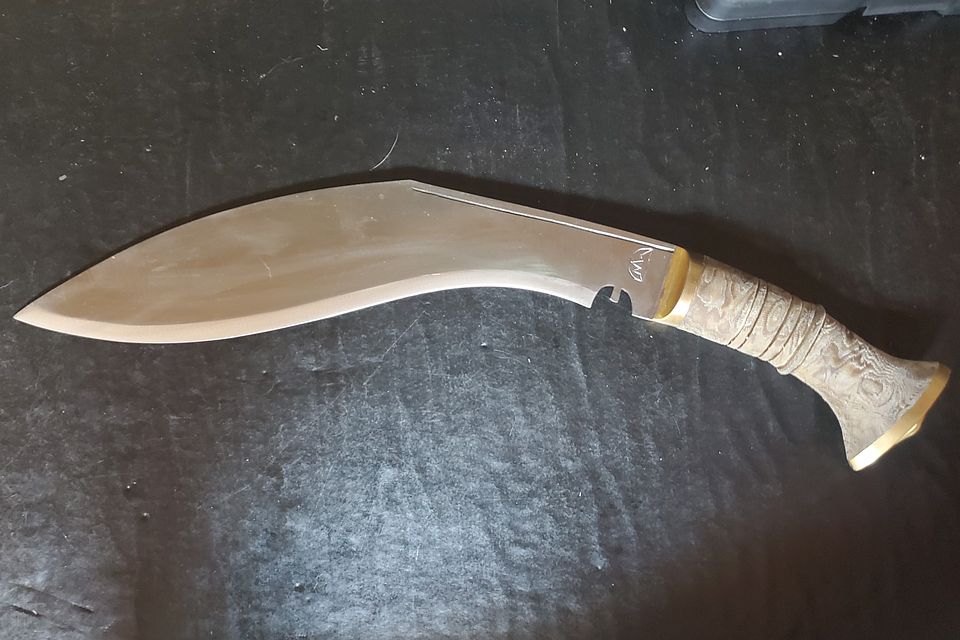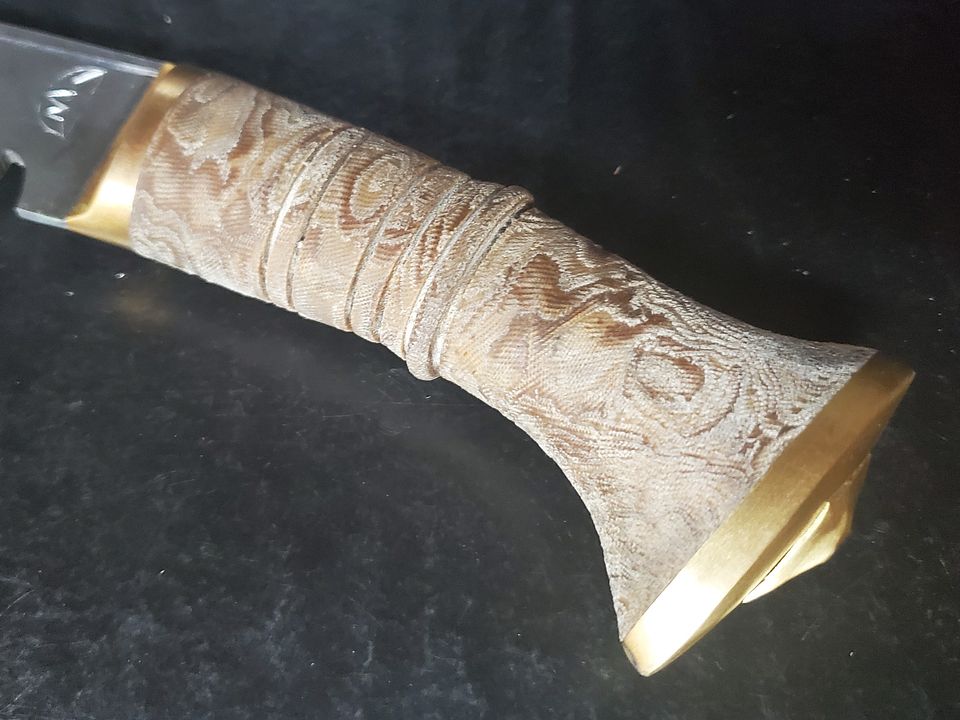 I will probably pick up another Kailash khukuri, but it will be with a polished blade and likely get a Kydex sheath option as well. The price is reasonable for a traditional, hand-made, custom khukuri and the communications were awesome through the process. Highly recommended if interested...
ROCK6