In this post I will show step by step how to build an induction generator.This type generator will run anything designed for mains power with one exception. ( any other induction motor.) That being said it can and will come in handy During power outages.Tvs, radios,computers, small box fans, and battery chargers do very well with this generator, not to mention lights.
WHATS NEEDED TO BUILD
1. gas powered engine or similar way to turn the generator. I chose 12 hp. lawnmower engine.
2. Induction motor: I used a washing machine motor for this generator. It's capable of 1,000 watts 110 volts 60 htz power.
3. Run capacitors: capacitors that are of the run type. You will need aprox. 200 to 250
[email protected]
370 to 480 volts ac.
3.a. Do not use start caps as they will explode after a few seconds use. Use only run caps.
4. Wire of correct size for amperage produced.
PUT IT ALL TOGETHER
First mount the gas engine and induction motor so there is no obstruction while it is turning.Now to connect the caps. place 200 to 250 uf. @ 370 to 480 volts ac in parallel. To figure uf. ratings simply add the individual uf. rating together ex.if you have 3 caps rated @ 25
[email protected]
volts ac your total will be 75
[email protected]
440 volts ac. So you will need enough caps to equal 200 to 250 uf. The best place I have found to get them is at an air conditioner repair shop. They will usually sell them used for about 2.oo each. You may need as many as 6 or 8 to achieve the desired uf. rating.
Now build a small box to house the caps and the outlet plug. This is to keep them from weather and probing fingers.Remember caps hold a lethal charge so be very careful and don't touch the terminals while generating or after stopping the unit.
After mounting the generator and building the box put the caps in the box: mount the outlet plug and run two wires from one end of the cap bundle to the lead wires of the generator motor.Run two wires from the other end of the cap bundle to the outlet plug. The generator is now ready to start.
Look at the rating plate of the generator and find the rpm markings. The generator needs to be turned aprox. 5% faster than the plate rating. Start the motor and obtain enough rpm to start the generator: ( note if it does not generate place 12 volts dc across 2 terminals of the cap bundle for about 2 seconds and it should start generating.)Turn the generator the same way it ran as a motor.
Now to time the generator: Use a small electric clock that plugs into mains power.Connect the clock to the generator outlet, watch it for a few minutes if it runs slow increase rpm, if it runs fast decrease rpm, when it keeps perfect time you have 60 htz.
Do not use more than 250 uf. of capacitance because you run the risk of flash over in the generator. This will destroy the generator.
The best thing about this generator is that it can't be over loaded. If you put to much demand on it the generator will simply stop generating. To restart it remove the load and it should start again. If not use the 12 volt dc procedure discussed before.
As far as which motor to use as a generator the more hp. your motor has the more it will put out as a generator.The generator will usually put out as many amps as a generator as it consumes as a motor. ex.9 amp motor = 9 amp generator. If your motor has a start cap. attached to it , cut the wires and connect them together.
I have used this type generator for many years and have gotten great results from it. Please remember this unit produces lethal voltage at all terminals. Use proper caution at all times. Better safe that sorry
GOOD LUCK
ACT
5"pully and belt for generator
cap box
caps in parallel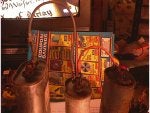 wiring for caps 1 wire
difference between run cap on left, start on right
gas engine
power generated
outlet plug
rating plate on generator
both wires on paralleled caps
power leads from generator
start cap removed and wires connected together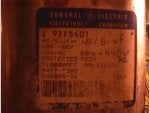 cap rating
turning the generator
start cap ( bad)
run cap with marked terminals
two pole cap
View attachment untitled.bmp
parallel circuit
washing machine motor as generator