Discussion Starter
•
#1
•
I've done a quick forum search and noticed there's not much on Forex (Foreign Exchange Trading). After speaking with a couple of members, it occurred to us that Forex speculation offers a unique way to potentially make money while tucked away just about anywhere with internet service.
With that said, Forex speculation is extremely volatile and is probably
poorly suited
for anyone uncomfortable with trading and/or losing huge amounts of money. Again, I fully realize this type of activity is not for everyone.
I wanted to start this thread as a place where the few Forex traders on survivalistboards.com can bounce ideas off each other.
I'll start it off.
I am a Forex speculator and mainly focus on trades that appear to be overbought, oversold, or ignore macro-data.
Today's trade, for example, I felt the NZDUSD pair had gone too high and NZ would want to do something to devalue their currency (ignoring macro-data). So I entered a short position in the NZDUSD. Luckily, I was correct as the NZ Central Bank says
maybe no more rate increases
for the time being. The NZDUSD promptly lost almost 100 pips.
I was able to capture 61 of them. [end bragging]

I am also looking at two other possible trades.
First, I've noticed an inverse correlation between the USDCAD and the price of oil. It follows that as the price of oil rises, the USDCAD falls. The correlation is not perfect, but it looks like the Forex trade is a pretty good proxy for playing the price of oil. (Keep in mind the leverage used in the Forex trade when looking at the graph)
The USDCAD "buy" in the above pic shows me closing a short position and was a 17 pip gain.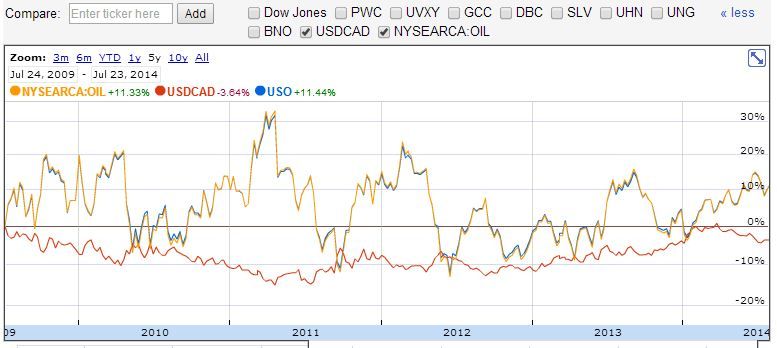 Secondly, the USDHKD pair interests me as a "holy heck China is sinking the US dollar" trade. The HKD has been officially pegged to the USD and trades in a very narrow range. Some believe if the HKMA (Hong Kong Monetary Authority) were to allow free trading of the pair, the HKD would quickly devalue. I don't agree with that assessment and believe the HKD would appreciate given its importance in trade (I think it will become MORE relevant in the future).
Here's that narrow trading range (7.75 to 7.85)...this is 10 years. Notice how it looks like it wants to go lower before the HKMA steps in by selling the HKD and buying up reserves.
Any thoughts on this one???