My question came about as I read your OP.
Please do explain how you know in advance when a "campout" will not ever become a survival incident ?.
Seems to me that no one plans on a real survival incident.
Or it would be just an excersize and not real "survival".
I carry 3 folders for everday use [SAK,mini Barrage,large folder ]
All serve a purpose,and I carry a fixed blade ,usually in addition to those folders when ANYWHERE near wilderness or even the possibility of that happening..
I was taught in the recent past [ last 10 years ] the survival adage "plus one".
One is none,two is one.
Look it up,makes perfect sense to me.
Most people and and "survival" stories you read about are people who made stupid decisions, didn't fully prepare or assess the risks and their decision-making process led to survival situations. I'm not saying you "need" a fixed blade (and having an axe really negates the redundancy if weight is an issue), as a small folder is more than adequate if all your other planning, preparations, and prudent decision making is in line. A catastrophic situation requires more mental problem solving than a knife is going to provide...and I say that as a serious knife enthusiast. I've had to really trim down my cutting category for long distance backpacking; camping is different to me. If you have shelter, food, water, stove, and fuel, what are you going to need a knife for? Seriously. Is it good insurance and mental comfort? Sure, but it's not always a necessity; sacrilegious, I know, but this is coming from hundreds and hundreds of backpacking miles with some areas more remote than others. There are likely a half-dozen other "essentials" that would be higher on my priority list than a knife in actual "survival" (shelter, clothing/insulation, FAK, compass, signaling device, water filter/system, etc.). A knife becomes essential when you screw everything else up, and just having a knife doesn't mean you're really that prepared, did very good planning, or even competent enough to be outdoors in the first place...
Now, that said, I decided long ago, I still prefer to have a fixed blade in the wilderness and even for distance backpacking, I had to make some sacrifices and went with the smallest Mora as part of my kit. To be clear, it's not an essential for backpacking (fixed blade, that is); it's the weight of a mental comfort item I decided to keep on my packing list. These are what I routinely backpack with; perfect for backpacking with full kit, not necessarily ideal for taking stupid risks (for the OP, I carry my, now smaller Mora, under the hip-belt pocket of my ULA Circuit or Seek Outside pack pockets with a similar design):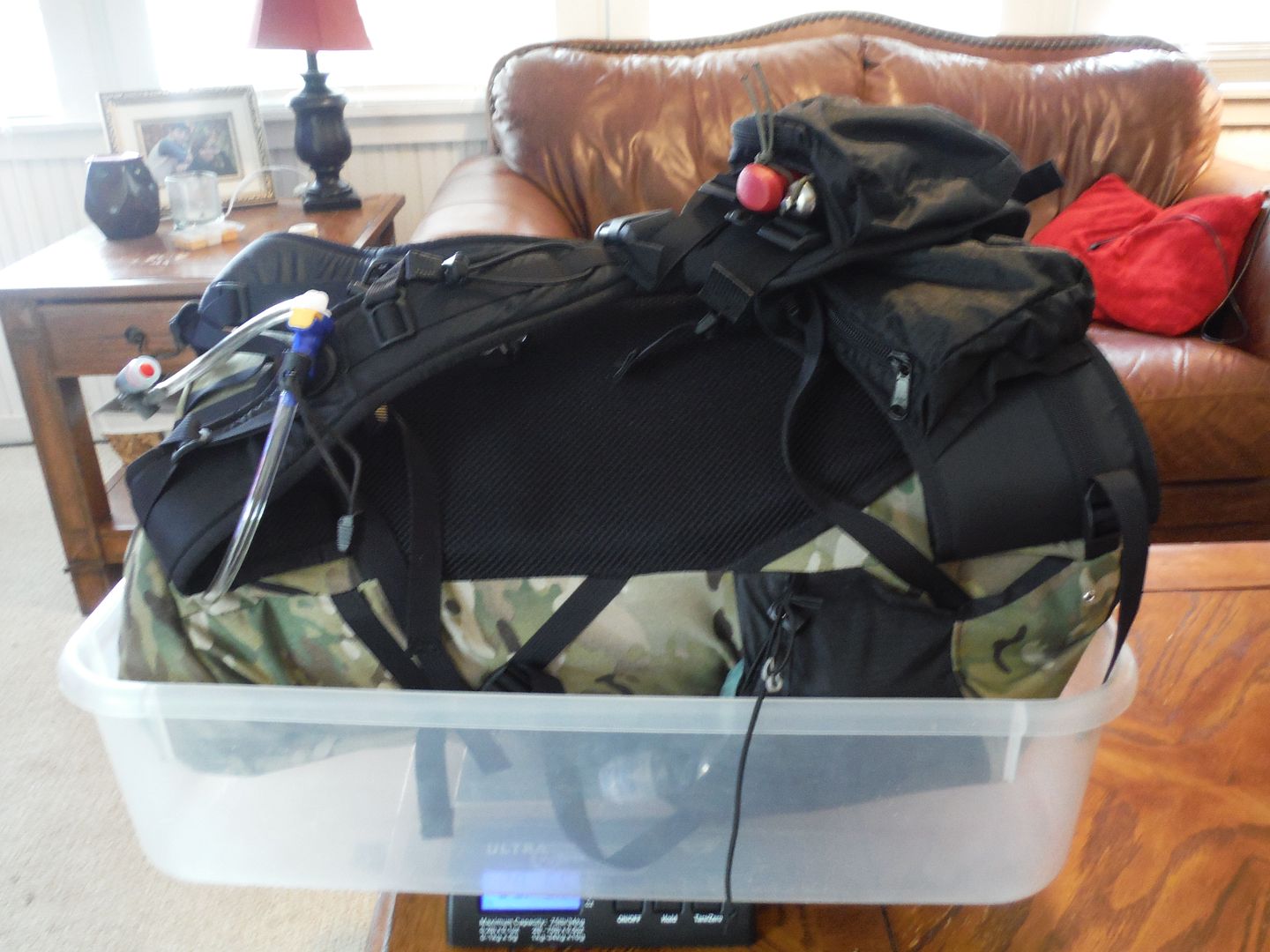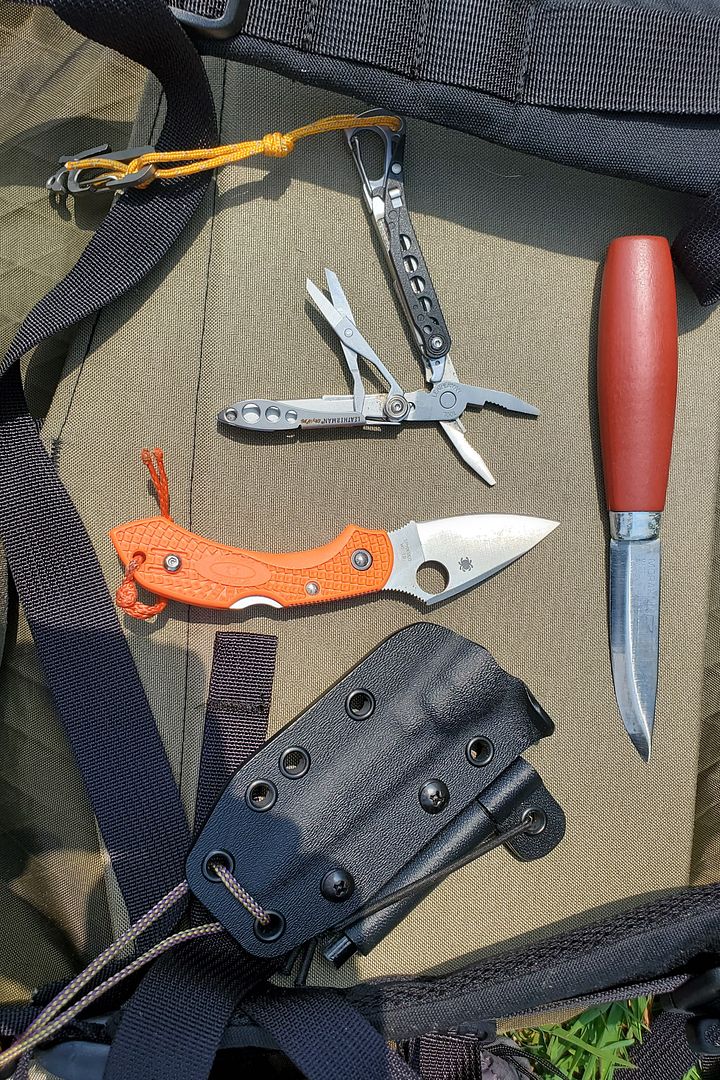 Perspective is clarified with experience.
I've spent a lot of "exercises" doing primitive "camping" and bushcraft with bladed tools and fully know my skill level and their capabilities. If you're doing the minimalist thing, a fixed blade becomes much more important on the priority list. Tools such as a quality fixed blade, saw, or an axe just makes certain tasks (predominantly wood processing, shelter building, etc.) much more efficient, but having them on hand won't keep you from making stupid decisions that often create survival situations.
I also pack the mental comfort of a pistol; another item that I just decided to add to my lightweight backpacking kit; much like the fixed blade, rarely (if ever) used, but they help me sleep better at night.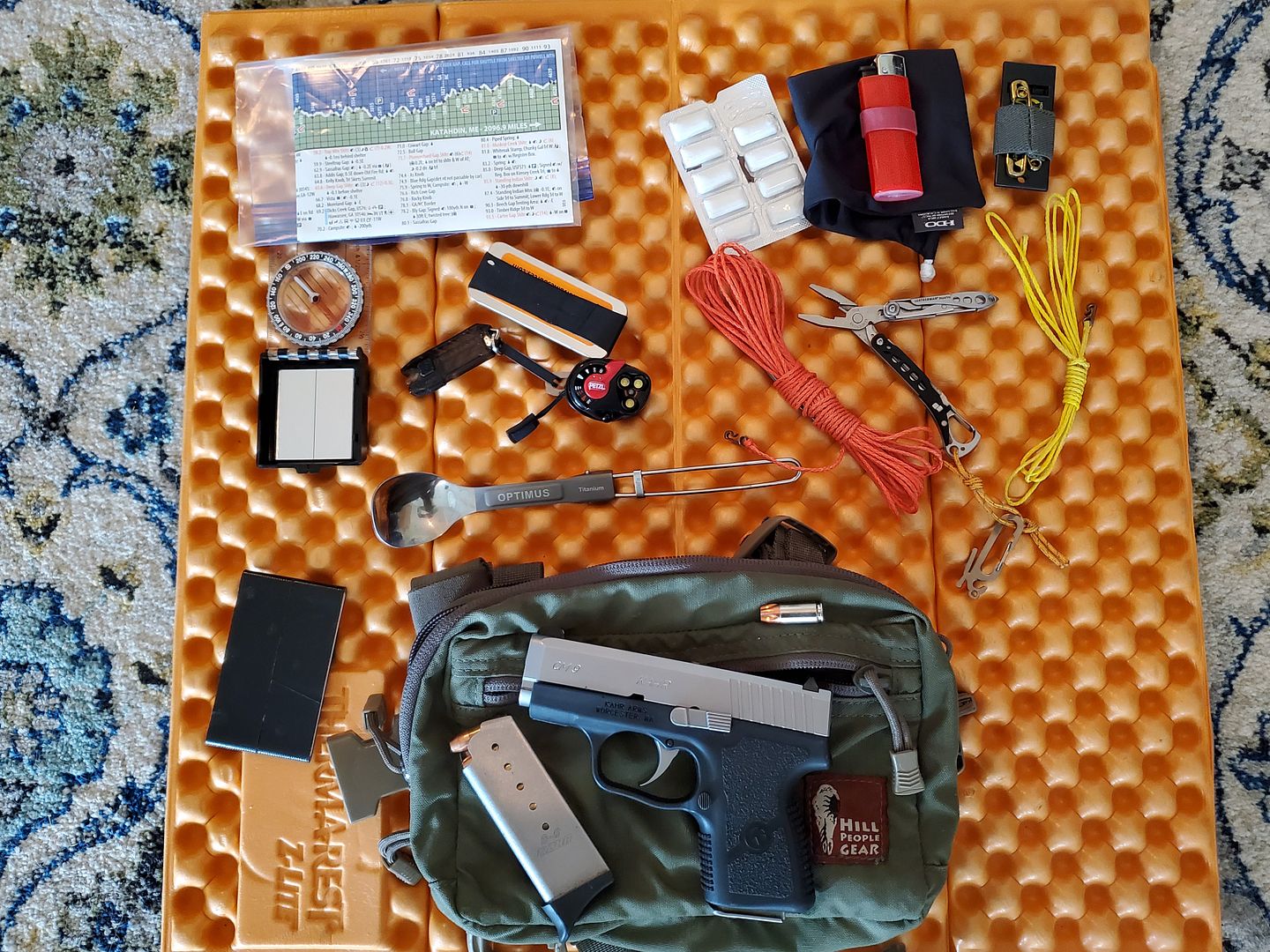 ROCK6