Discussion Starter
·
#1
·
We found a total of 125 canning jars the other day at a recycling bin. Most of them are pints, all but two were usable and in good condition. This lot brings our scavenged jar count up over 500. We stuffed them in the trunk as you can see.
I
hate
to have to scrub jars while I'm in the middle of canning, there's usually plenty else to do when I have two bushels of beans ready.
First we clean them really well with hot water, soap, steel wool, and a long brush with a scouring pad at the end. We let them sit upside down for 30 minutes and then turn them over to air dry for a day or so.
Then we wrap them in shrink wrap so they stay clean until we are ready to use them. This storage method makes them a little easier to break, but it's the best way we've found to store large amounts of jars.
We use "professional food wrap film" that we get from Sams. It's $13 for the 12 inch film and $17 for the 18 inch film (3,000 and 4,500 square feet) and both of them are very handy.
We start by wrapping 6 jars at a time. One complete turn is all you need for the first wrap.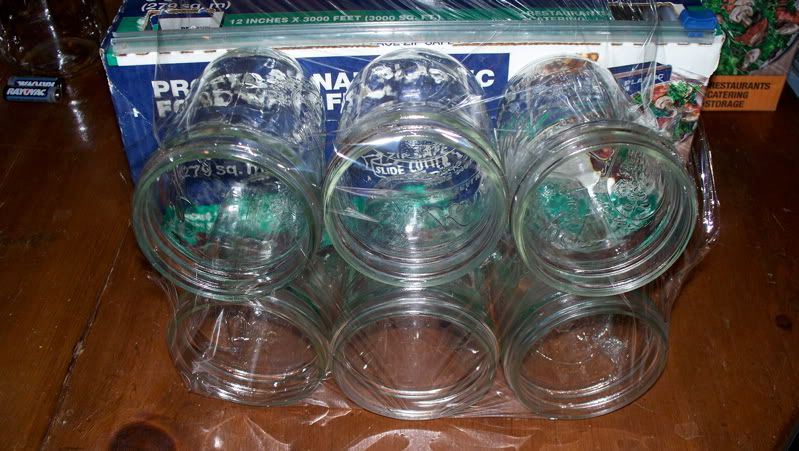 It takes some practice to flip 6 jars over at a time, but use the box as a guide and it's not too hard. Line them up against the box and pull the wrap down around the front of them nice and tight, this keeps them from moving so much. I do best when I hold both sides like this, my thumbs hold the back jar while my pinkie holds the front ones. Just one full flip makes them ready for the next step.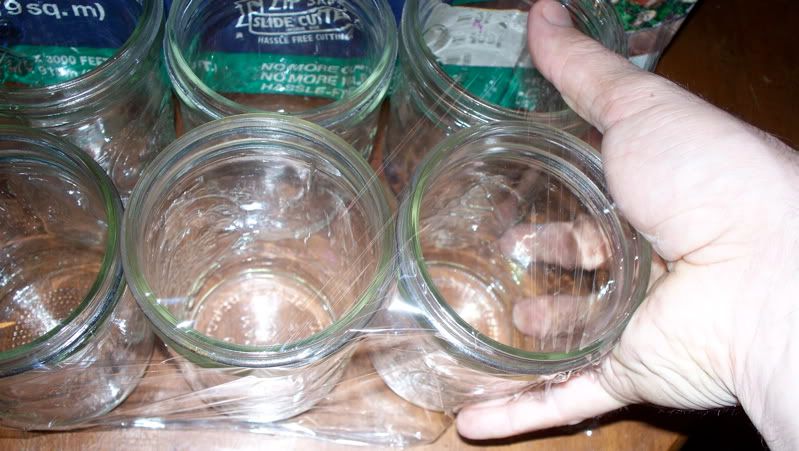 Then we put two of the 6 jar packs together to make a case of 12. I like to use the 18 inch film to wrap the case width one full turn, then I switch back to the 12 inch film and wrap it again long ways for a very strong and dust proof seal.
After cleaning and wrapping they are ready to use whenever we need them. I still can't believe someone threw these out.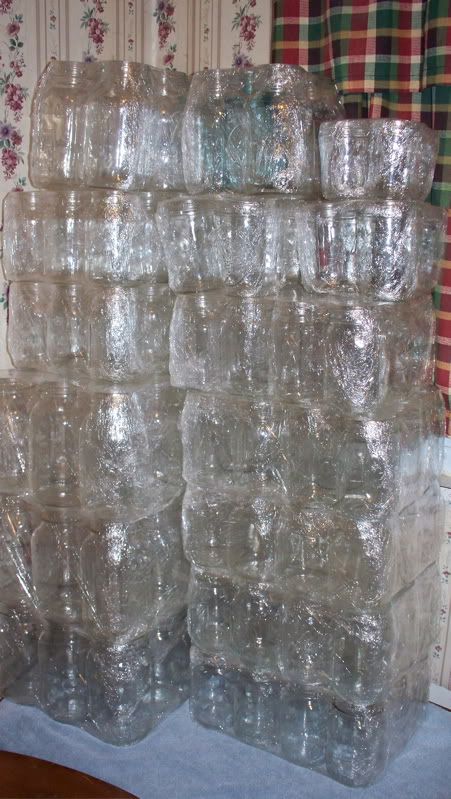 I figure it costs around a penny to wrap between 30 and 40 dozen jars, so it doesn't cost as much as it seems like it would. I've wrapped melons, paintbrushes, pies, leftovers, and jars for 2 years and I still have over half a roll of wrap left.
Where else do you find cheap or free jars?
Any other storage suggestions?