Discussion Starter
·
#1
·
New to this discussion group but certainly not to gardening. Thought I would share with the group.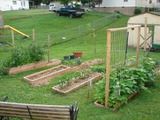 Each year I try something new. I have came to the conclusion that raised beds work best for me. This year I am growing, from left to right,front to back:
Pink BrandyWine Tom.
Black Beans
Big Beef Tom.
German Johnson Tom. (not doing to hot)
Just Pulled Potatoes to make room for Silver Queen Corn
Jalapenos
Pumpkin
Bell Peppers
Cantaloupe
Strawberries
Kentucky Blue Lake and Half Runners
Burpless Cucumber
Lemon Cucumber
Sweet 100 Cherry Tom.
Mountain Pride Tom.
I also have some blueberry, blackberry, and raspberry bushes, 2 dwarf apple trees and a grapevine.
Mostly I have 1 or 2 of an item, enough for some variety. Although next year I would like to grow enough for preservation, and the rest for our local farmers market.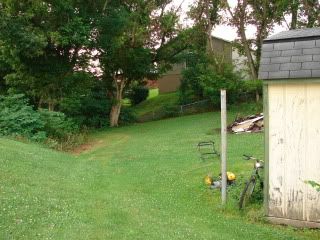 This is the other portion of my yard... its shaped really unusual. I would like to expand my garden that-a-away. I have to really plan that area out, as it is partly shaded, unlike the area for my raised beds..