Discussion Starter
·
#1
·
Digging up Potatoes​
As crazy as it sounds, some people have never dug up potatoes. Years ago, this was a common practice on farms, where most of the familes food came straight from the garden.
Digging potatoes is a simple straight forward thing to do, you just dig them up. Usually, the tops of the potatoes can be grabbed and gently pulled out of the ground. Sometimes this will result in the potatoes remaining attached to the stalk.
The example below is a bunch of red skin potatoes grown in my home garden.
After the tops of the potato plants have been removed, use your hands and dig around in the soft soil. Potatoes will grow all around the potato plant, not just at the base of the potato top.
Extreme care should be used to prevent the bruising of the potatoes. One of the easiest way to bruise the potato is by dropping into a bucket. When using a large bucket, such as a 5 gallon, lower the potato to the bottom of the bucket by hand. Try not to "drop" the potato into the bucket, as the fall will bruise the potato and hasten rotting.
While digging up the potatoes from my home garden, I used a small 1 gallon bucket. This bucket is an ice cream container. It was bought from a local grocery store with ice cream in it. After the ice cream was ate, the bucket was washed out and is the perfect size when gathering food from your home garden.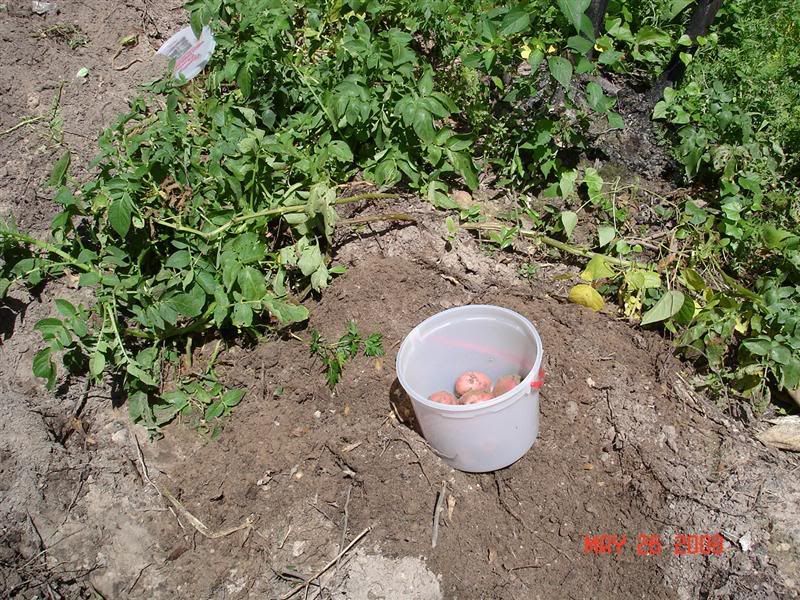 The whole area around the plant should be dug up to make sure all the potatoes have been harvested. There is a slight chance, if any of the potatoes were missed, they may sprout next spring.
Once the potatoes have been dug up, they should be moved out of direct sunlight as soon as possible. Sunlight causes the skin of the potato to turn green. If the potato is left in direct sunlight and the skin turns green, it should not be eaten.
After the potatoes have been dug up, the dirt should be removed and the potato should be left to dry in a cool spot out of direct sunlight. While the potatoes are drying after being washed, roll them several times and wipe them with a dry cloth. If extra water is left on the potato, this will promote the growth of mold.
The end result:
These potatoes have been washed, dried and ready for storage. If stored properly, these potatoes will stay edible for several months. Some of these potatoes will be saved and used as seed for next years garden.