Some of you might be wondering where I have been over the past few weeks. While some of you may be wondering, "who is this guy and why should I care?"
72 hours before this picture was taken, this road was covered with about 6 feet of flood water. My mom and dads house is about 75 yards down the road and still has around 18 inches of water in it.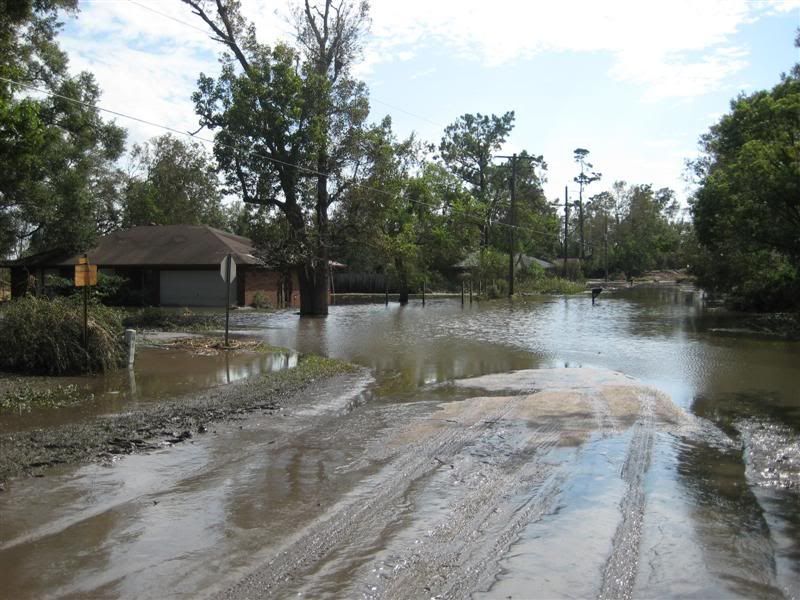 My mom, dad, my brother and I moved into that house when I was about 9 or 10 years old. It has been my home for the past 30 years. We had christmas there, thanksgiving, birthdays, sleep overs when I was a kid - your typical growing up kind of thing.
Mom told me a couple of weeks ago that the house will have to be demolished. The county and the federal government are going to buy the land and set it as part of a wildlife refuge.
Mom and dad had flood insurance, so they have the money to start over with a new house.
My brothers house - about 5 feet of water.
My buddies house - about 2 feet of water.
And I'am having a little hard time dealing with it all.
This is a topic that is not discussed very much. Even if you are not directly affected by a disaster, and some of your friends and family are, the effects can be far reaching. I have found myself sad lately, very sad. My mom and dad, brother and buddy need help, and I live just far enough where I can not just drive down there every day.
In a way I feel guilty, in a way I feel that I have let my family and my friends down.
Even though mom and dad have called Bridge City home for the past 30 years, its time to pack up. They are looking at houses at least 100 miles inland, which is going to be a lot closer to me. And when we get another hurricane they will not have to evacuate, which is something that has been bothering me.
I have not even published a video on youtube in almost a month. There are other factors at play, but my mom things my depression is probably caused by seeing the hell that others have been through.
The last time mom was at my house, we talked for a little bit. She told me she was standing in her house that will have to be torn down, just broke down and cried like a baby. That hurts me that my mom hurts.
So what have I been doing? I have been working on my sons gaming site hot and heavy. Its an online computer game called team fortress. Its a game I have been playing for around 9 years. Over the past few weeks I have been making videos for my sons youtube channel. Playing computer games is something that I enjoy. There is something about blowing someone into little pieces with a rocket launcher that let me relax.
I have also been working on my sons website, and getting it optimized for search engines. Over the past month I have taken his site from page 30+ on google to the front page. If you do a search for team fortress forum on google, the last time I checked his website was on page 1, and #4 out of over 2,000,000 results. There are people that would give their right nut to get on the first page of google, and I have 3 sites.
While I am working on Koreys site, I feel that I am doing something good for him. And when your kids are happy, its easier for you to be happy. When Korey says "Dad we got 5 more member today" - I feel good about that.
Koreys site -
Team Fortress Forums
Between the computer games and working on my sons site I feel somewhat better.
The next project is my wifes forum and its going to be a good challenge. Because I can not even find it on google. But oh well, that should not be a problem in a couple of weeks.
We had thanksgiving at my house this year. Mainly because mom and dads, and my brothers house are torn apart on the inside and are not livable, much less have a big dinner with lots of company.
I was supposed to take this thanksgiving weekend and go hunting. But I have not even felt like doing that. Last year, I would have been in the woods all day everyday. But this year, something is different. I feel like my energy is drained. I might go hunting tomorrow morning. The lows tonight are supposed to be around 40 degrees, and we had misting rain all day today. Today would have been great to go hunting, but I was working on a stupid water leak under the sink. Here I sit, asking myself why didnt I go hunting thursday, friday or saturday. Honestly, I dont know. I dont have an answer,
This thread is supposed to be about dealing with depression after a disaster, and in a way it is, at least to me. Because this is how I am dealing with my depression.