Alaknak II outfitter tent from Cabela's
Gear Review​
Reviewer's Background
I have been camping and backpacking for as long as I can remember. I've never been what I would call 'hardcore', but camping, backpacking and canoeing have always been activities I've enjoyed a great deal. Often I've camped just for the pleasure of it, but I've also done it a great deal in conjunction with fishing, hunting and climbing trips. My natural inclination is a minimalist one, but the group I started hunting with was anything but minimalists. As such I had to make concessions on gear and style of camping. At first I found this transition difficult, but as I began to get more serious about prepping I also began to appreciate the style more. The minimalist approach has some advantages but a more gear-laden approach allows for a wider range of events, longer-term needs and supports multiple people (i.e., my wife and kids) better. It was under the influence of this newer perspective that I researched a base camp tent for hunting and purchased the Deluxe Alaknak II tent.
Product Information
(from the manufacturer website with minor formatting changes)
Wall/roof Fabric: XTC Poly oxford 250-denier Fly and tent: 1,500mm-rated
Tent Type: A-frame square
Size: 12' x 12'
Style: Centerpole
Zippers: #8/10 "YKK" polyester
Use: Medium-Extreme conditions, Outfitter camp
Floor Material: Poly oxford 150--denier , 1,500mm-rated
Poles: Steel


[*]48" x ¾" diameter side poles (10)
[*]116" x 1½" diameter center pole (1)
[*]176" x ¾" diameter front awning pole (1)​

Windows: 3
Vents: 3 on walls, 2 at peak

Price: $599.99 USD
Product Description
The
Deluxe Alaknak II
tent was designed as an alternative to standard canvas wall tents that would be lighter and easier to setup. The tent comes in three sizes: 9.5' x 9.5', 12' x 12', and 12' x 20' (this review pertains specifically to the 12x12 but it is likely the information transfers well to the other two sizes).
Deluxe Alaknak II with optional vestibule
The tent walls and roof are constructed from 'XTC' poly material. XTC stands for X-treme Tent Cloth (which I presume is just a marketing term for Cabela's) and is a 250-
denier
polyester oxford cloth with a waterproof rating of
1,500mm
. The bathtub floor is a 150-
denier
poly oxford with a waterproof rating of
1,500mm
.
The material is far lighter than the 10oz cotton canvas wall tents are typically made from.
The poles are steel and very sturdy, but heavy. They account for a large portion of the overall weight. Multi-piece poles are held together with shock cord making assembly of the poles obvious and easy. Metal cable is integrated with the shock-cording where it runs over the edge of pole pieces, thus making it highly resistant to abrasion. The included 12" anchors are steel with an attached hook for securely attaching the guy ropes. The guy ropes are a good, easy to manage rope with a simple and effective triangular tensioner for tightening the rope.
Shock corded poles with integrated cable and 12" tent peg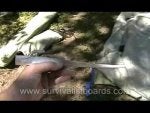 The overall shape of the tent is called is an A-frame square and is of a centre pole design. There are 3 windows (2 side, one rear) with sewn in mesh. Each window has a zippered internal cover and a transparent external cover. It is possible to have one or both of them open/closed. Below each window is a large rectangular vent that has an internal cover that fastens with Velcro tabs. Externally, the vents have an sloping cover that allow them to be open and still be protected from the elements entering (these vents are the one difference I am aware between the original Alaknak and the Alaknak II – in the original Alaknak they were much smaller).
Interior view of window and vent, external view of vent sloped cover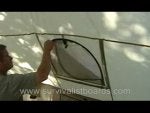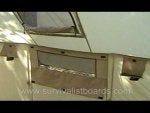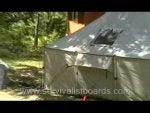 The door is of an inverted T design, and also has a screen section that zips separately. The integrated awning over the door channels rain or snow away from the door itself. There are 2 always open vents at the peak of the roof to maximize ventilation and minimize condensation.
The various points of attachment on the tent (webbing for tent pegs, snap clips for awning pole, grommets for side poles, loops for optional floor and loops for optional roof panel) are all made of heavy duty material and sewing is double stitched.
Webbing attachments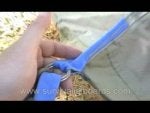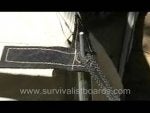 The tent comes standard with a stove jack and a section of the floor zips open to accommodate a wood stove. All zippers are YKK #8 or 10 for durability and performance even in cold climates.
Stove jack and zip out floor section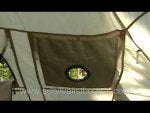 On the inside, each corner comes equipped with a fold down shelf with an integrated cup holder as well as hanging mesh pockets.
Options include a clip in floor liner (protects the floor and simplifies cleaning), a clip on
roof panel
(protects the roof from errant sparks coming out of the stove pip) and a
vestibule
.
Field Information
The lighter material of the Alaknak makes transporting and setting up the tent easier than the typical canvas wall tent. It can be set up by one person in under 30 minutes easily and much quicker once you've done it a couple of times. However the lighter material does not seem to hold heat as well as heavy canvas and stands no chance against embers that should happen to land on it from the stovepipe (whereas heavy canvas may just end up with a black mark on it). Use of a
spark arrester
is a must, the optional roof panel is wise, as is using good dry wood and a properly stoked fire to reduce embers. (I have a couple of small ember holes from using local wet wood and not having the optional roof panel – which has now been orderd.)
I have read reviews were people complained about the weight of the steel poles, but personally I find the weight and robustness reassuring. They aren't subject to damage from rough handling or conditions. The pegs are some of the best I've seen come with a tent, but even so are subject to bending if driving into rocky ground.
Bent tent peg
Condensation has been an issue at times, but I attribute this to some of my tent mates pushing for a propane heater (propane produces a lot of moisture) and refusing to accept that ventilation reduces condensation but insisting that the vents must be closed up as tight as possible. It took an awful lot of persuasion (and a bit of a tantrum…) to finally get the vents to stay open and swap the wood stove into place. But at least the condensation problem was dramatically reduced.
One of the fellows I hunt with had a great idea for hanging wet clothes. He got some of the tracks and brackets for hanging open shelves on a wall and fastened them to the centre pole with gear clamps. The brackets stick out and we hang the clothes to dry. It works great! If doing this, though, it is easier to place the clamps over the pole before putting it place, otherwise it is necessary to completely undo them to attach them around the pole.
Rather than buying the optional floor, we got a 12 x 12 piece of indoor/outdoor carpeting. It is very pleasant on the feet, even when the ground is cold. It was necessary to cut the carpet to accommodate the centre pole and the opening for the wood stove.
Finally, if you're a light sleeper then the sound of snow sliding off the roof can be a bit loud and you will want to ensure that you don't leave tails on the guy ropes that can whip around in the wind and slap the side of the tent.
Summary
The Deluxe Alaknak II tent is an excellent and relatively inexpensive outfitter tent that can withstand nasty weather, is lighter than an equivalently sized canvas tent and can be quickly set up by even a single person. The lighter material does not hold heat as well and one needs to be extra cautious about embers from a stove.
I highly recommend this tent for anyone considering such a purchase.
UPDATE
(Oct. 6, 2007): After 3 (4?) years the tent did leak during a particular nasty rainstorm. The tent held up fine to the wind (which blew our dining shelter around - ripping the plastic and bending the poles - despite it being pegged, roped to a tree, roped to my truck and weighted down with propane tanks and 18 litre water jugs). I will apply some waterproofing product to the tent.
-Per Ardua