Discussion Starter
·
#1
·
For the longest time I have been using work boots provided to me by an old workplace, but they are starting to fall apart. I have snow boots, hiking boots, dress shoes, and sandals; but unless I'm doing something that'd require those I usually just wear my work boots. Style wise I would like to stick with boots that have mostly plain black appearance to them that way it doesn't look too out of place with jeans and a dress shirt and the like, and I need them to be somewhat water proof and good in all four seasons. Additionally, anti slip, steel toes, and electrical shot resistance would be nice but not required.
I saw a pair of boots the other day on sportsman's guide for below 40$, anybody know if they are any good? Under $40 sounds great, though I'm worried they'd be poor quality. Regardless, I'm open to plenty of suggestions. Ideally, the cheaper the better, though I'm not totally closed off to the idea of spending a fair bit for an exceptional pair.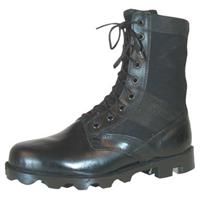 Sportsman's Guide carries top-quality discount Outdoor and Hunting Gear, Guns, Ammo, Fishing Supplies and more - all at great low prices!