Hey Gang,
Been working on my bag(s) for a while now and just got finished with the bag I put together for my parents. I wanted something they could throw in the camper shell when they went on a road trip. Something they could use if they got stranded, lost or what have you. I hope this will help someone get started...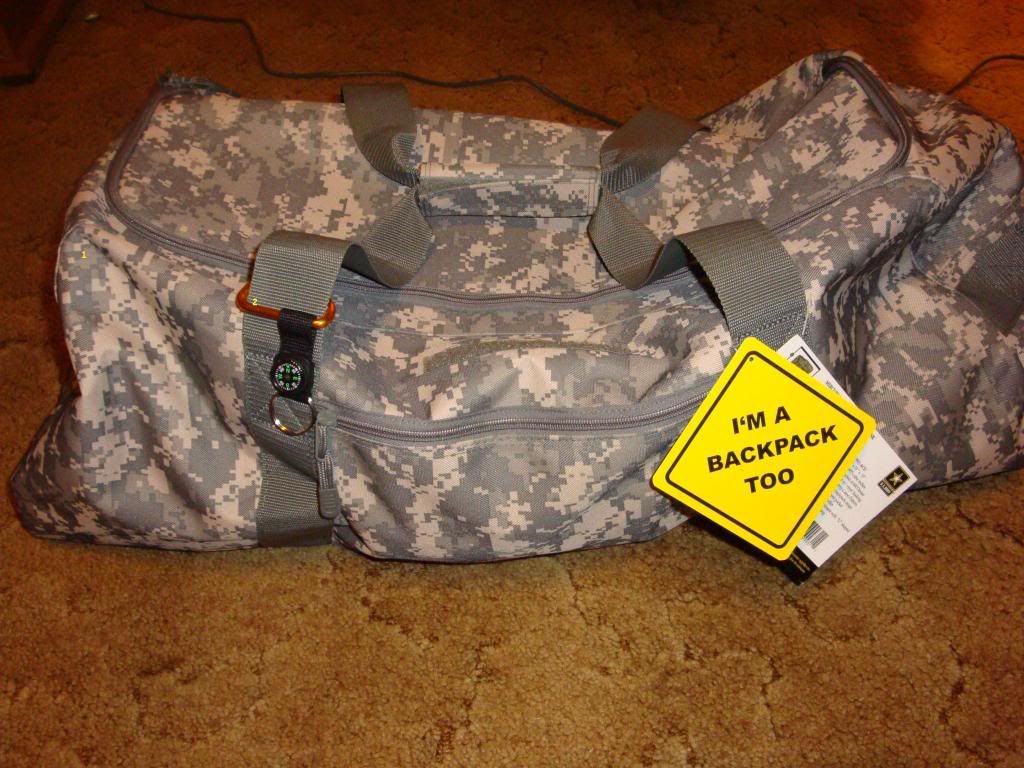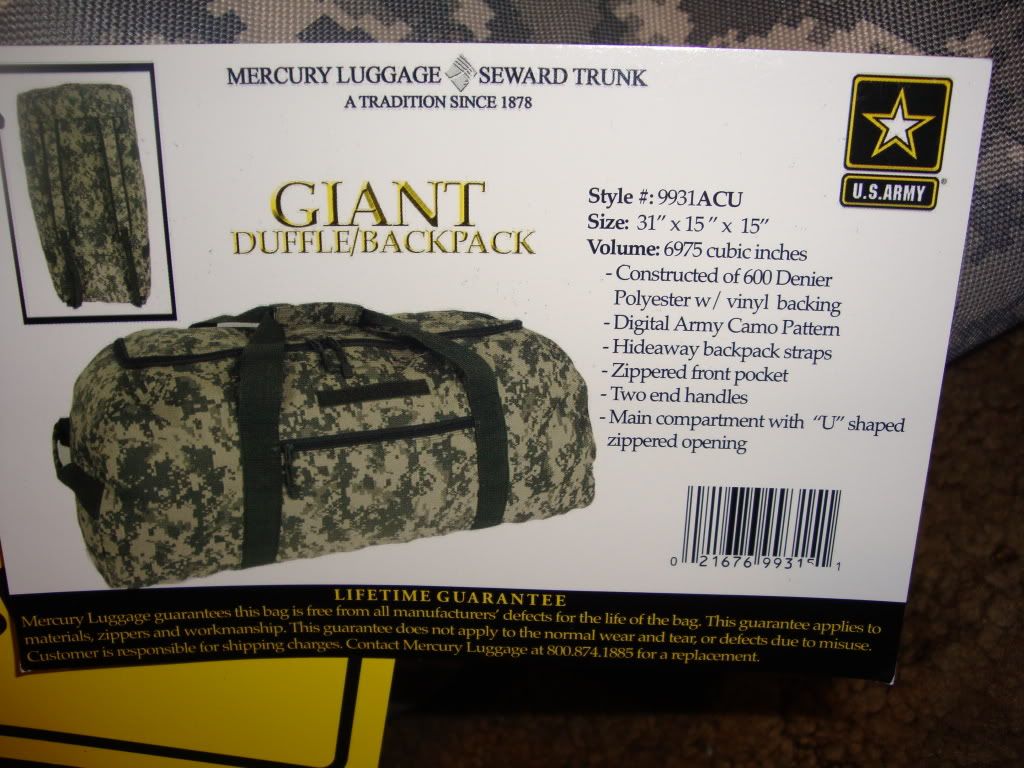 1. 6" Steel rope wrapped knife
2. 1.5' Heavy Aluminum Foil
3. Cotton/ Vaseline (I made petroleum jelly sandwiches with cotton rounds)
4. 1/2 pencil with 10' Duct tape
5. Bandana with two 33 gallon garbage bags, water treatment/ neutralizer tabs and two rubber bands
6. Whistle with lanyard, compass and thermometer
7. Magnesium with striker
8. 12 LED Flashlight 3 AAA's
9. Bic Lighter
10. Multi Tool Pliers, knife, can opener, small led
11. 2" Folder
12. First Aid kit, with added bandages, meds and folding scissors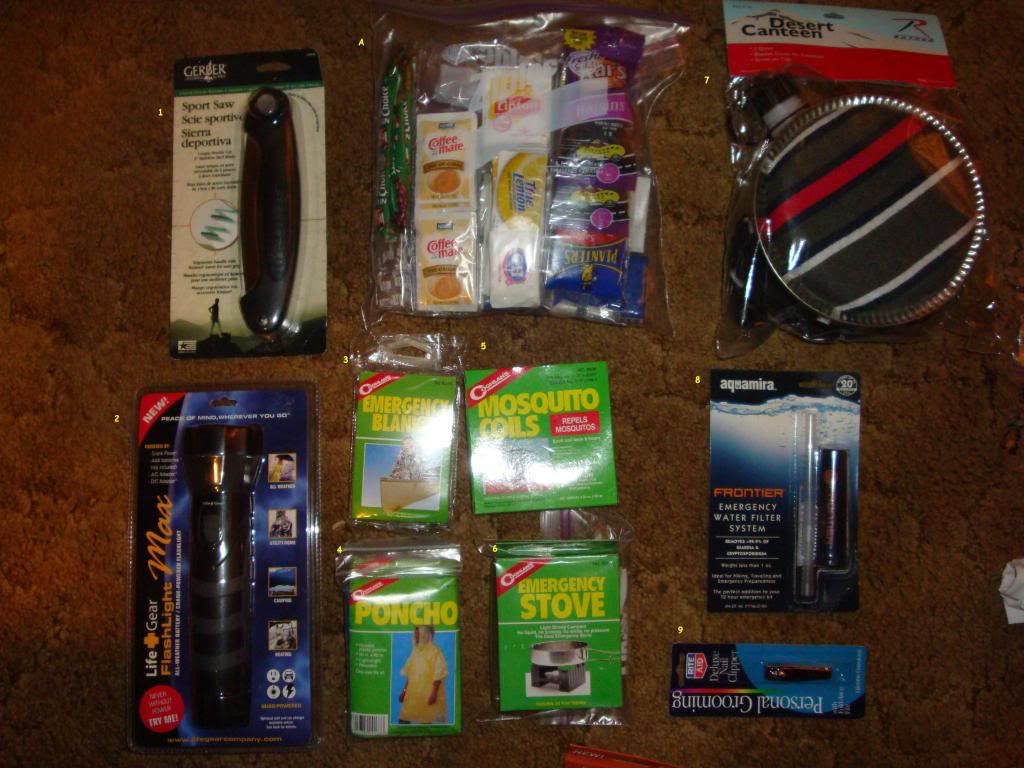 1. Gerber Folding Saw
2. Dynamo Flashlight (Wind up)
3. Emergency Blanket
4. Emergency Poncho
5. Insect repellent coils
6. Camp Stove (24, 6 minute tabs)
7. 2 Qt. Canteen
8. Water Filter Straw
9. Nail Clippers
A. Will show and list separately
1. Ramen Noodles
2. Grub Gear (Knife, fork, spoon)
3. 7' X 9' Tarp
4. Datrex Bars (3 day supply)
5. Entrenching Tool
6. 20 Ct. Field towels
7. T.P.
8. 100' Para Cord
9. Coleman Fish Pen (Pocket fisherman- rod, reel, line, hooks, weights, etc.)
10. LED Light (Retractable cord)
11. Knit Cap
12. Knit Gloves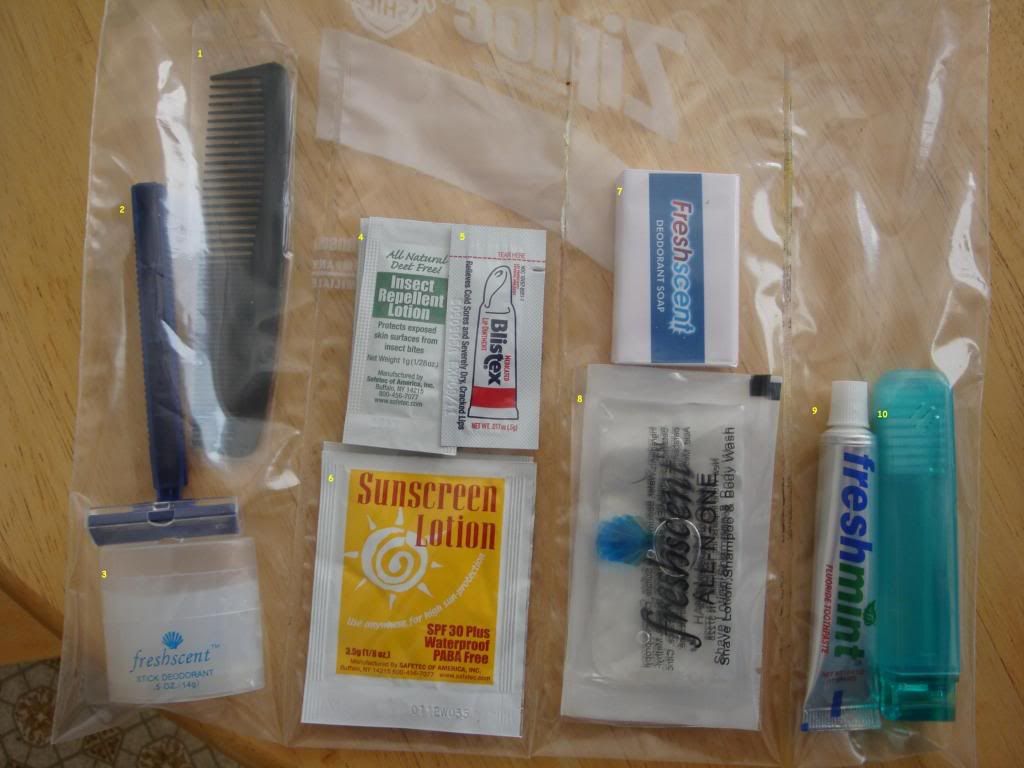 1. Comb
2. Razor
3. Deodorant
4. Insect repellent
5. Blistex
6. Sun Screen
7. Soap
8. Shampoo
9. Toothpaste
10. Toothbrush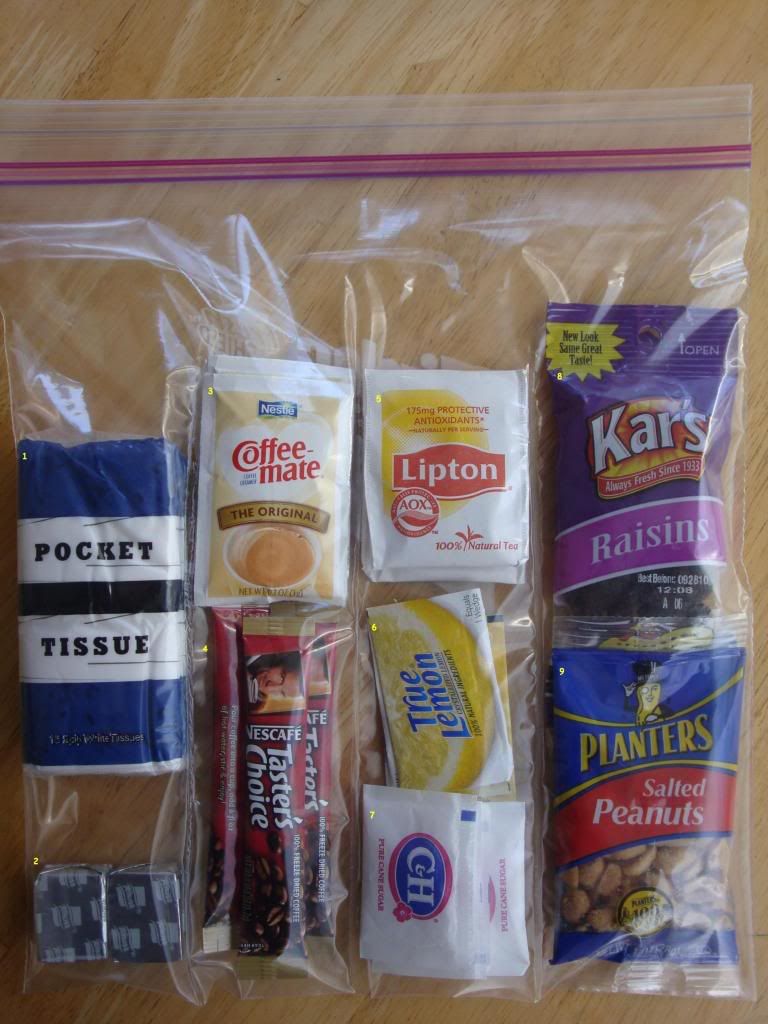 1. Pocket Tissues
2. Large Bouillon Cubes ( 2 cups yield per)
3. Creamer
4. Coffee
5. Tea Bags
6. Lemon and Orange Drink Mix
7. Sugar
8. Raisins 1oz
9. Peanuts 1oz
That is it for now. I still have to add a Mirror, something for sleeping (bags, blankets, I dunno), Sierra type cups, extra batteries, 3X5 cards, zip ties, radio, maybe buff up the meds and an atlas. Pops B-day is Friday so he gets it a lil early.
Anyway, critique away, remember it is budget minded, and meant to be a basic bug out with some creature comforts or a roadside emergency supplement. Not quite sure... a hybrid if you will.
I'll post again when I get my main bag done, complete with vendor and price info. Also check out my checklist, it is a nice printable list. Cheers
My Bug Out Bag Check List