I picked up one of the first Hoodlum runs (made by TOPS, not Buck). Of all my large blades, this is probably the better designed for my environment. Big knives are a bit controversial in the knife-user community as they are a compromise from between a smaller knife and an axe/machete.
First, the Hoodlum sucks at chopping. It is too light and a thin, flat ground blade. Even with this blade, you would be wise to include a decent folding saw. Where it excels is in greener foliage environments, jungles, swampy area, spring time or down were I am in the SE. It can serve as a decent small machete.
Another good feature is the ability to choke up or use it as a smaller blade by holding the blade closer to the tip. Ron Hood developed a very effective method to use a lanyard for that purpose. The tip could be the weak spot if you think this is a pry bar tool, which it isn't. If used like a knife and not a breaching tool, it's more than tough enough.
If you baton wood, it does it well, but don't expect to pound through very large diameter wood rounds; at most 5-6 inches is what I would recommend if you really need to split wood for the drier insides. The notch works well as a pot/bail catcher for your Bushpot.
For actual knife chores, it excels at cutting smaller branches and vegetation for building shelters, manufacturing snares/traps, cutting bows for insulation, clearing a camp site, foraging (much longer reach), fire prep, etc. The biggest advantage is the size to weight ratio; it makes it a crappy chopper on large wood, but much easier to carry in the pack.
I think Nutnfancy did a decent video using the current Buck version…
Here's the Hoodlum in comparison to some other large knives…far right.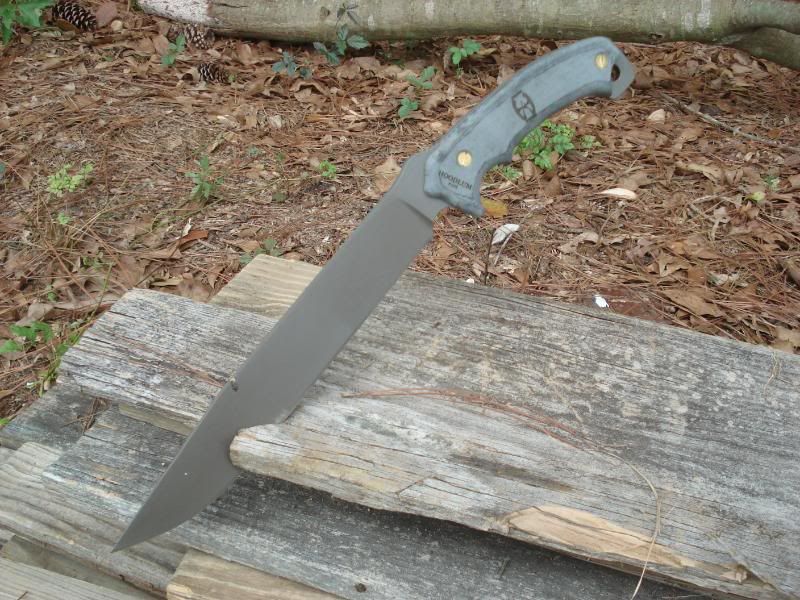 The late Ron Hood was a master in the outdoors. He often advocated the benefits of very large knives, but he also kept a smaller knife/folder on his person (often the Victorinox SAK). The only down fall of a large knife is their size when packing; they often are put in the pack and not on the body...something I don't advocate. Never the less, if you get a chance to see Ron's videos, his skill with a large blade will amaze you.
ROCK6