Quote:
Originally Posted by
Armordude
So who has actual experence with MPPT charge controlers and where can i find the "best value"?
I have a Morningstar TriStar 45 amp MPPT, a Blue Sky Energy SB2000E 25 amp MPPT, and a non-MPPT Morningstar 10 amp. I'm very happy with all. The Morningstar 45 might be too large/heavy for portable operation. Neither MPPT models are inexpensive. Morningstar also makes a 15 amp MPPT controller. I considered that model, but at only fifteen amps it does not leave much headroom for expansion.
By the way, Blue Sky will stiff you for $30 if you want the mounting box and another $30 for the temperature compensation probe (which is standard on the MS 45 amp). Morningstar offers an optional remote display unit for $115 that will mount in a standard electrical box.
Morningstar is probably the most popular controller in North America. The company has a stellar reputation.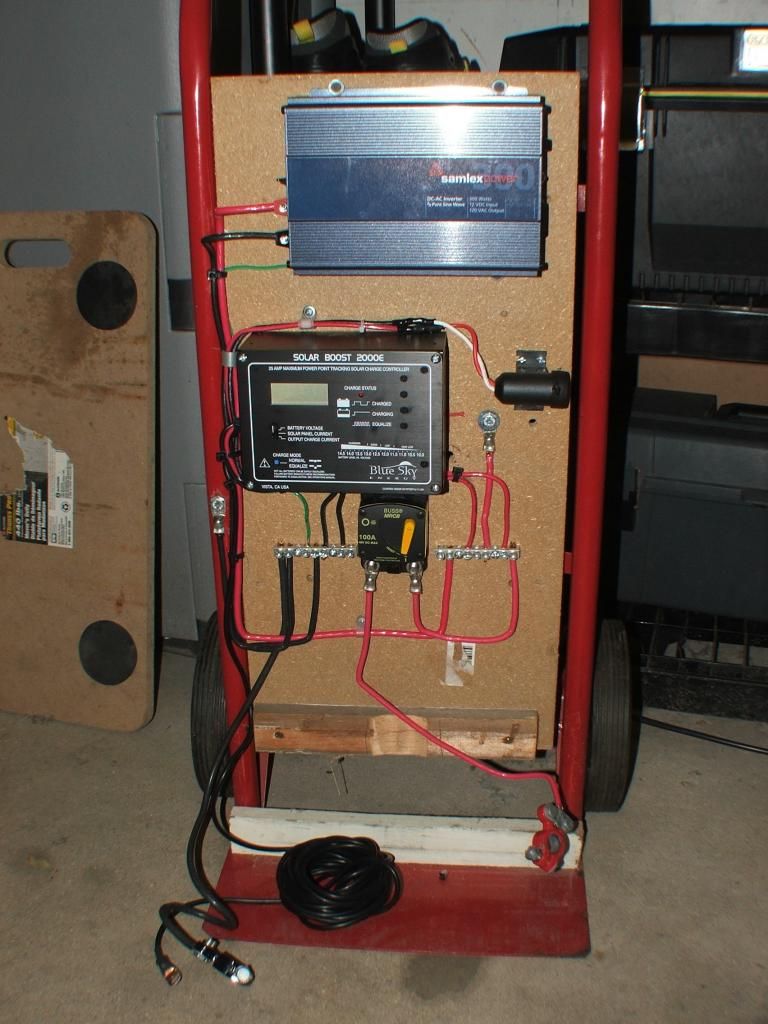 Above: This is my portable setup with the Blue Sky controller. The entire setup is on a small two wheel hand cart (the battery box is missing in this photo) and is powered by a single 135 watt Kyocera panel and is expandable to three panels. It is perfect for EMCOMM, Field Day, RV-ing, small hunting/fishing cabin, etc. It features a 300 watt Samlex sine wave inverter. I have brought this unit to hamfests for display/demonstration and it is a big hit. I have had numerous hams ask if they could hire me to build one for them!
Above: My main home solar power station featuring the Morningstar 45 amp MPPT controller, battery and solar array safety cutoffs, and a load center on the output of the Exceltech 1100 watt sine wave inverter. It may not look like it, but if needed this entire system could be ripped out and moved in a few hours
Above: Morningstar remote control unit. My system is still pulling 130 watts even when its nearly dark out! MPPT rules!
Above: Ultra-compact non-MPPT controller with a simple square wave inverter. Clips to any 12 volt battery and uses the same 135 watt panel as the hand cart. This is a 10 amp controller and is not expandable
I designed and built all of my solar power systems myself (not a kit or package deal). Everything has proper breakers/fuses and safety features and MC4 connectors. I buy almost all my solar stuff from Northern Arizona Wind & Sun (
http://www.solar-electric.com/
). Their service and goodwill is superlative. I would not even consider anyone else.
Hope this is helpful!