Like some, I initially didn't care too much for the plastic sheath that came with the Mora 511. That being said, the survival mentality means trying to be resourceful and figuring out ways to use things for multiple purposes. So here is my feeble attempt, as I saw some possibilities in the Mora sheath: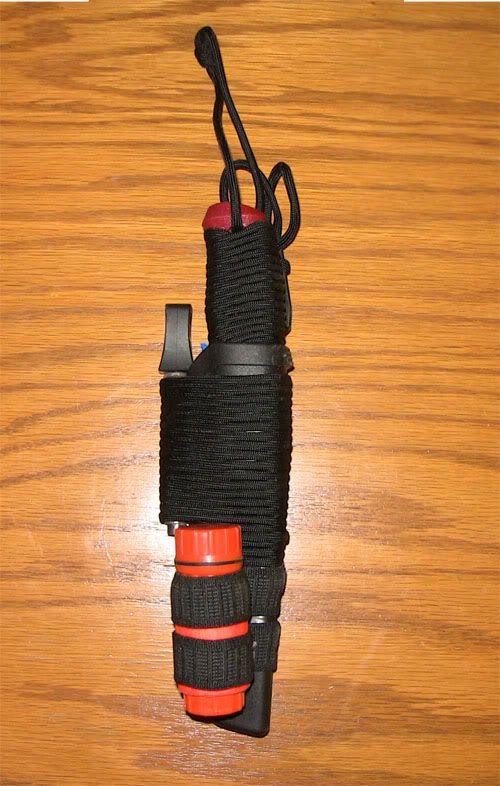 First, I drilled a lanyard hole in the handle, countersunk it, and attached a paracord lanyard. Then I did a paracord wrap on the handle with just under 10' of cord. After the wrap on the handle, the increased diameter made the knife difficult to fully insert into the sheath. So I stuck a redwood plug into the sheath to stretch out the opening a tad and threw it in the oven for 5 min at 200 degrees. After taking it out and letting it cool, the knife slides in nicely and very snug on the paracord. I can turn it upside down and shake it and it won't come out.
Next, after seeing many custom knife sheaths that had a Firesteel loop attached I decided that I wanted one. Being a paramedic, I found a damaged and expired 3 cc syringe that was being thrown out and found it to be nearly the perfect size for a sheath for the Firesteel. A piece of plastic tubing from a hardware store should work as well. I merely melted and squeezed down the end just a bit to give it a constriction so the Firesteel wouldn't slide out. This provides ample friction and holds it firmly in place. I ground the spine of the knife blade flat to use it as a striker.
I then wrapped another 10' of paracord on the sheath to hold the Firesteel and it's sheath in place on the side of the Mora sheath. Also, because the belt loop on the sheath is too small for all but my narrowest belts, I fashioned one out of paracord. Then, having previously made my own PVC survival fishing kit for my BOB, I thought about the possibility of incorporating one into my knife sheath. So I wrapped 60' of 12 lbs test on it, then another 60' of 4 lbs fluorescent line a bit lower down. I covered these with one wrap of electrical tape to protect them. I decided to use a waterproof match container to hold some basic survival fishing supplies (Super Duper and Kastmaster lures, some hooks, sinkers, and trout worms. I also included six 20 lbs steel leaders for snares). I picked up some 3/4" elastic band from the Walmart sewing section and formed a strapping system using a hot glue gun. This slides onto the lower part of the sheath. Friction, along with the bump created by the fishing line hold it on fairly well, but I left a small tail of paracord from the wrap to tie it off and ensure that I don't lose it while hiking. Finally, I wrapped 5' of duct tape around around the container, and topped that with about 2 1/2' of fluorescent orange gaffers tape.
The paracord on the handle noticeably improves the comfort of the grip as I have fairly large hands, and also gives me some emergency cordage. I plan to replace the paracord on the sheath with some bankline, as I can wrap significantly more into the same area and is better suited for fishing uses. I also stuck a couple of Vaseline soaked cotton balls in straw containers for tinder and tucked them under the paracord on the sheath. You can see them in the rear view. The weight of the knife and sheath was 3.4 ounces before the mods, 8.2 ounces with everything on it. I haven't fished with it yet, but in practice the line pays off smoothly and it casts very well with only a small sinker attached.
This my first attempt at knife mods, and any comments or suggestions for improvement are welcome.
Rear view:
With fishing kit detached: