I have a nice collection of cast iron pots, skillets, dutch ovens, etc. The smaller stuff is easy to season since it fits into the oven but wash pots are to big to fit in the oven so I decided to try my hand at seasoning one of my big boys. I had collected three over the years looking only for ones that had no cracks or holes and had not been repaired by welding. Plenty of sheeple use these pots for flowerpots and knock a hole in the bottom for water to drain
which makes me throw up in my mouth a little LOL. Since I had several and you really only need one I picked out the one I thought would suit my needs best and decided to sell the others to convert into other preps. I initially paid $100 apiece for these when I got em back in the 90's but was able to sell the others on Craigslist for $250 apiece. I initially tried grinding the rust off with my wire brush in the grinder but that didn't work very well because of the texture of the cast iron. You can see in a few of the before pics where there is a shiny spot from the grinder. I also tried my 2700 psi pressure washer but that didn't work very well either. You can see the pressure washer trails on the pot also in the pics. So I got a buddy to sandblast the one I kept to prepare it for seasoning. It still had a fine dusting of the abrasive media on it when I brought it home so my wife thought we should wipe it down with a damp cloth. As soon as she started wiping it, that sucker started rusting like you would not believe.
I was amazed at how fast the rust jumped on that bare cast iron. I ran inside and got my Crisco and dove into coating the pot with it. That stopped the rust. Next time I will have it ready and in hand before wiping bare cast iron down with anything wet. Since it was to big to fit in my stove, I was hoping to bring it into work over the weekend and use the large Vulcan commercial oven but it was to tall to fit into it either.
So I decided to try my propane cooker. I hoped the cast iron would heat up to the 350 degrees I needed to season the wash pot. Unfortunately with the burner under the bottom the upper sides of the pot only hit about 150.
So after the bottom was done, I resorted to hanging the pot sideways over the burner and rotating it all along. I started at about 9:00am and finished about dark. This project ate up my whole Saturday. This method worked but was less than perfect. I could have built a big ring of fire around the pot but I think I will build a solar oven and see how that will work to season the pot. Then I would have the oven for when I wanted to cook with the pot also. I was using my wife's camera to take the pictures and about halfway thru I tried to take a video. I only succeeded in changing the size of the picture. That's why the end photos are smaller. I did take some video with my video camera though. Maybe I'll post a clip of that sometime. My wife thought I was crazy preparing a pot that big and said we would only use it to feed an army but I told her if we had several family's bugged in with us then it would be nice to have. Plus it will be a valuable barter item in an EOTWAWKI situation.
Here are some pics of the process.
Here are the three I originally had. You can see from the picture the one I kept had much thicker walls.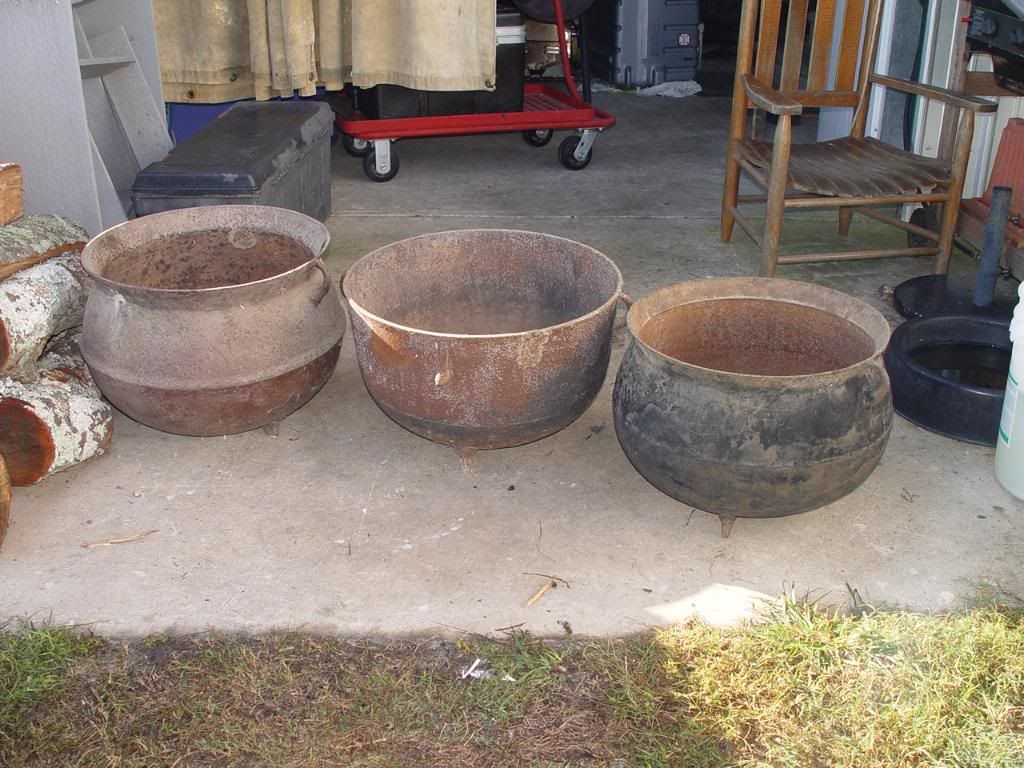 The cat we adopted knows that cast iron really holds heat well LOL
Some before shots of the rusty pot.
Here it is after sandblasting.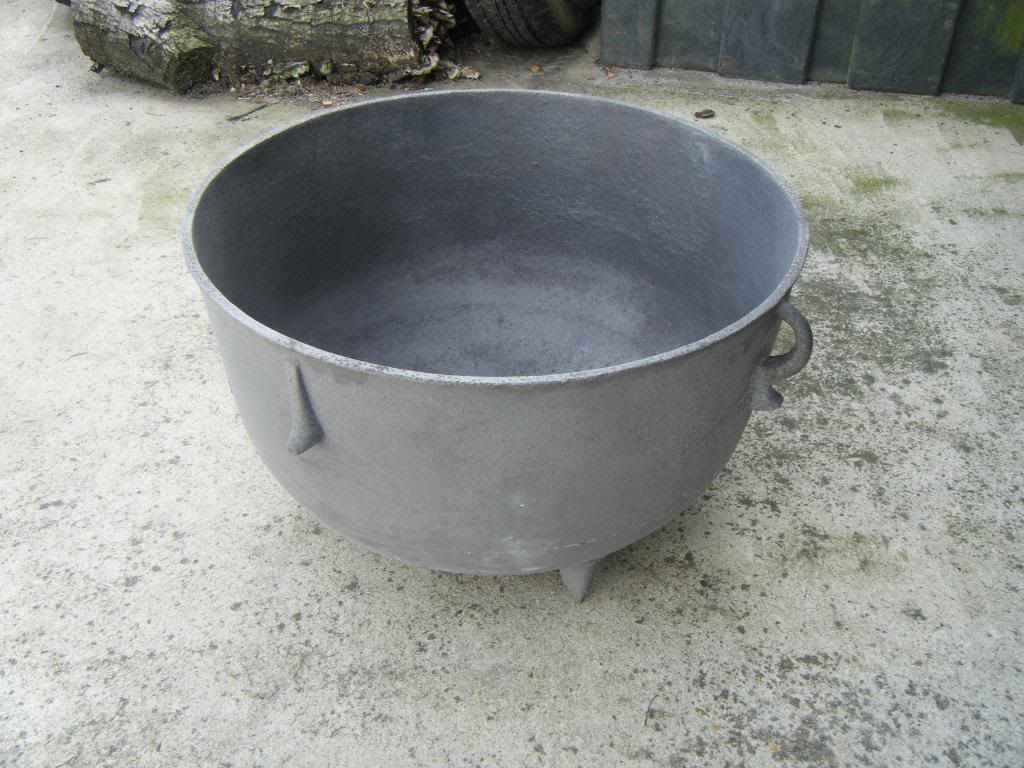 Here it is greased up and ready to start seasoning.
The setup I used
Doing the sides after the bottom finished.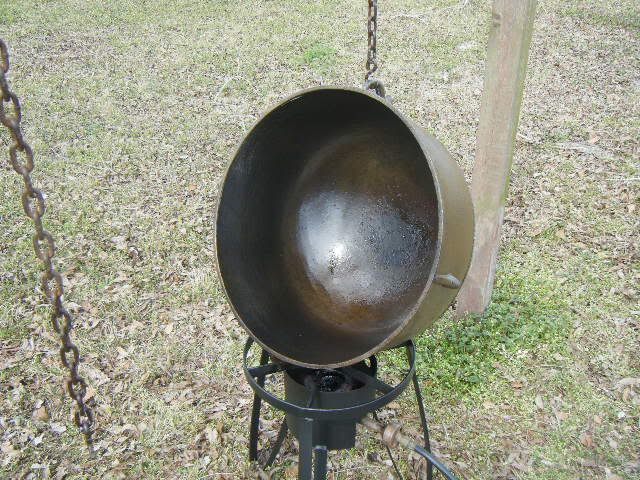 Checking the temp to make sure I'm not too hot.
Here is the finished product. I normally do my pots twice so eventually I will season it again. Hopefully the solar oven idea will work.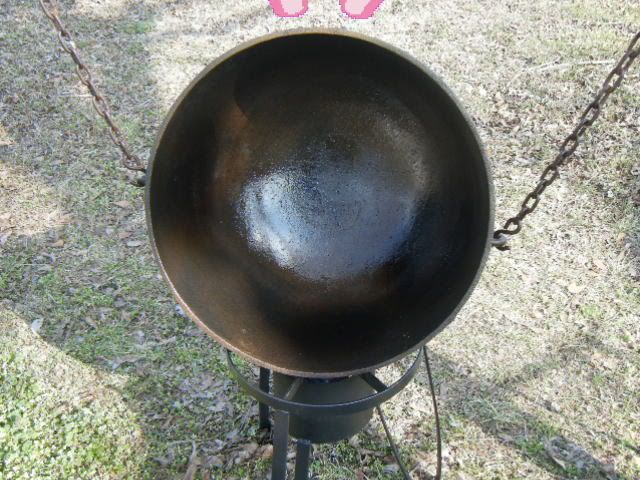 It's hard to tell from the pic but the seasoning came out pretty well. It's a lot better than it was when I started.