Early on, at Dirt Time 10, I saw two fellow DTers running around hacking away at what ever held still long enough.
One was armed with a Kukri House Kuk and the other had a Condor Golok. I have lusted after both of these blades for the better part of a year. To the point where I had actually put them in 'my shopping cart' several times, only to talk myself out of it before checking out.
I strolled over to the two young gentlemen and apeared interested
Shortly, I was invited to join in the hack fest. I tried the Golok first. (I can't remember who it belonged to, but Patty says it was Robin/NewbSurvivalist) It was sweet. Bit deep and I really liked the ball on the end.
Then I tried the Kuk. Also very sweet. A mite shorter, but bit just as well. Between watching them, and my own experience, it seemed that they were pretty evenly matched but I took a bit more of a shine to the Golok. Not entirely sure why.
So, when I got home, I started cruising the interwebs looking for it. I found it at Knifecenter for 29 bucks. I got the sheath also, for 19 more bucks.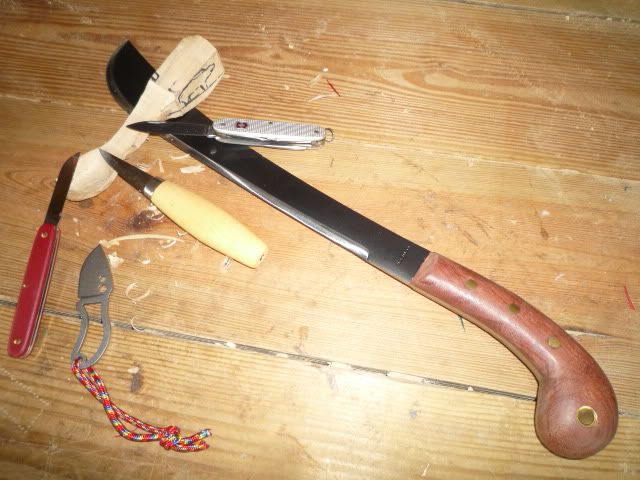 It arrived a week after I ordered it, good time for the VI. The Golok came wrapped in paper and plastic. The blade was in perfect shape. The blade is carbon steel, something they make a point of pointing out, and that it WILL rust if not cared for.
The blade has some type of black coating on it. It seems durable, as It doesnt'show any wear after some bush chopping. the blade is straight sided with a scandi grind that looks slightly convex. Barely sharp. I gave it some passes on my Eze-lap and got it reasonably sharp. The edge was very polished, as was the spine. Interestingly, the spine is not coated.
The blade is a quarter inch thick at the handle, tapering down to .1" at the tip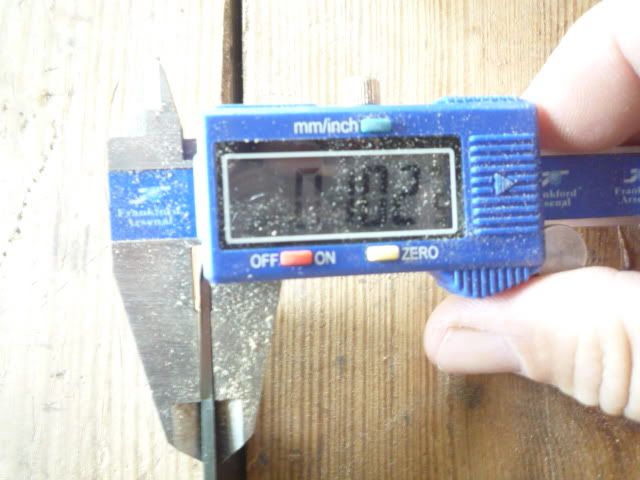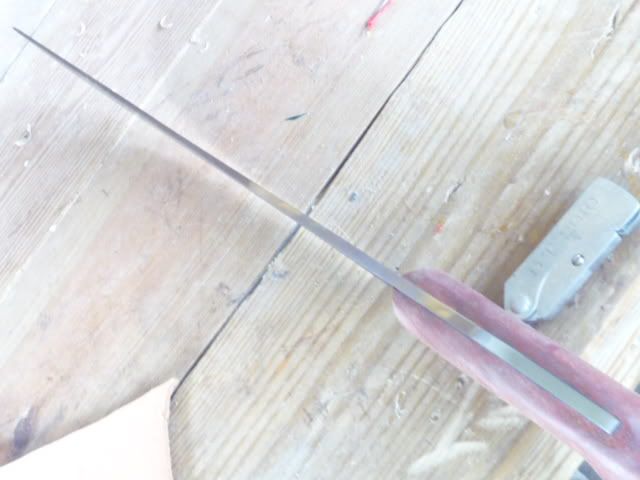 This really aids in the way the golock handles. It is a joy in the hand.
The sheath I am not impressed with. Supposedly leather, it feels/looks more like pleather. It is fairly thin material, thin enough that I worry about a sharp blade cutting trough it. I'll have to make a Vec inspired wooden sheath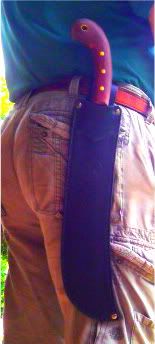 One of my favorite features is the knob at the end of the handle. It adds to the balance. keeps the blade in your hand, and you can hold way down on the knob for a little more reach/leverage.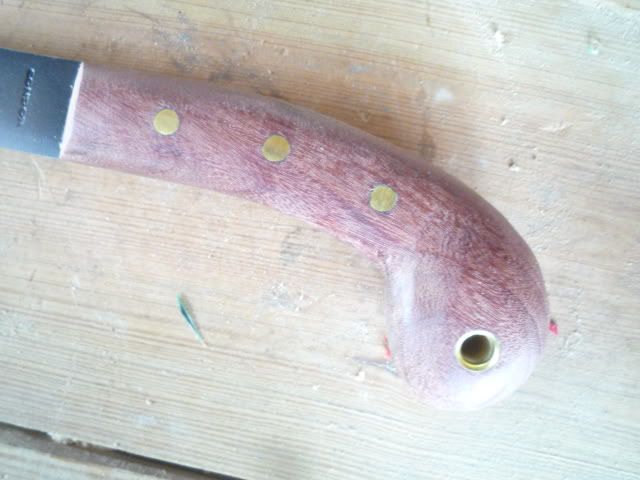 You can see that the knob isn't truly a 'ball'. I intend to change that. I'm going to carve on it to round it out and further delineate it as a sphere. I'm even toying with the idea of carving it so it is a ball held by a claw, like those old furniture feet. Go well with the fact that it is made by 'Condor'
The other mod I want to do to the handle is make it more ovoid in profile. It is pretty round right now.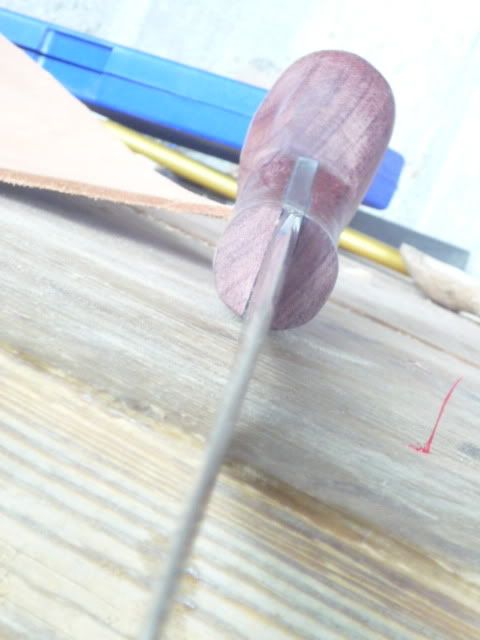 While not bad, I like my hand to know where the edge is. Also I think a more oval cross section will give better control, more accuracy, and less chance of glancing.
So. How does it work? I took it out into the yard today. I'd done some pruning with the chain saw yesterday and had some branches laying on the ground waiting to be moved. I started by using the Golok to do some 'limbing' . I went through branches up to 1" with no effort. Literaly. No effort. If I worked at it, I could get almost 2". It swung easily and has a looonnng sweet spot. Here it is with one whack on a 4" branch of a local hardwood (green)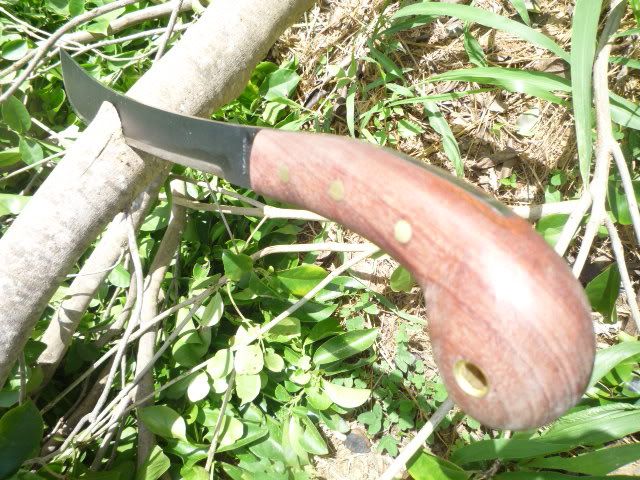 It went the rest of the way through with a total of 10 chops. It would do better once I get to know it, and put a good edge on it.
I also used it on some Guinea grass 4-5' tall, and some vines. It handled all of this well. What I really liked was no hand/wrist/arm fatigue. It is easy on the weilder. and the handle showed no hot spots.
Well the verdict is in. I am officially in love. I highly recommend this blade.