Just in case anyone wants to get ahead of this may I suggest the purchase of a flanged inlet and a Single pole double throw center off switch. The installation takes less than an hour once you obtain the parts. A flanged inlet is plug; or male; which is fixed in place.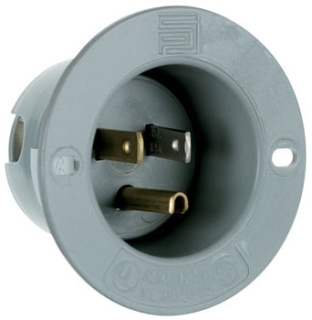 It will except the unmodified receptacle; or female; end of an extension cord. The Single Pole, Double Throw, Center Off Switch
Installs in place of your heating plants disconnecting switch. One pole of the switch goes to the dark terminal of the flanged inlet. The other pole goes to the energized conductor; or hot; of your furnace's electrical supply circuit. If you shop around the parts will be less than $50.00. The center off feature of the switch makes it OK to use as the disconnecting means for the heating plant, avoids the work of making space for a second switch, and eliminates any chance of hot switching between the two supplies which can damage your heating plants solid state controls. Some heating plant controls will not tolerate the wave form distortion of the output of some generators. The first thing to try if the heating plant doesn't like the generator is the use of a double pole switch so as to switch both the energized and Grounded Current Carrying conductors; hot & Neutral; between the the two sources. If that does not do the trick then you will have to have a true sine wave inverter generator or inverter as the source of supply. There is plenty of good guidance on the forum for using Inverters as a source of AC power so I won't go over that again here since I do not work for the Department of Redundancy Department.
Fifty Dollars ($50.00) and one hours work buys you a lot of convenience. Doing it ahead of time when your not already cold and stressed makes the chances of serious trouble significantly less. FWIW YMMV
--
Tommy